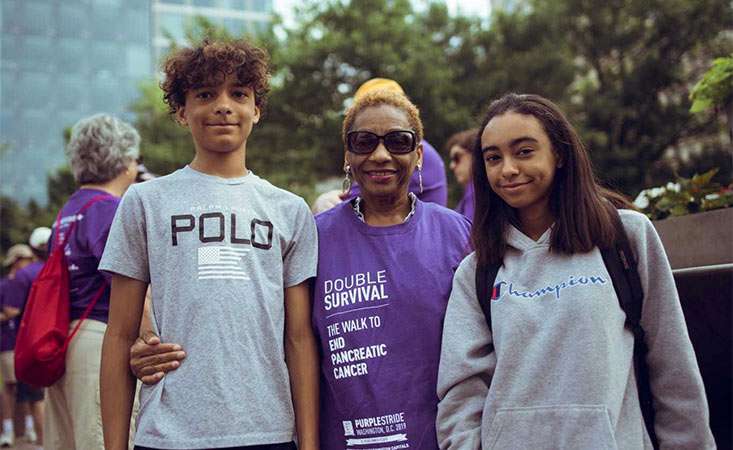 I was diagnosed on June 30, 2016, with a pancreatic neuroendocrine tumor.
I had the Whipple surgery, 7.5 months of chemotherapy, and 5.5 weeks of daily radiation along with chemo. I documented my journey during treatment and published a book in 2017.
During treatment, I did not know about the Pancreatic Cancer Action Network (PanCAN). I felt alone.
In 2018, I heard about PanCAN on my car radio, announcing the upcoming PurpleStride event in Washington, D.C. I attended PurpleStride in 2018 and 2019 and have photos with my grandchildren. It was fun having their support, and it was encouraging talking to other survivors.
Join your community and help fund programs and services that improve patients' lives by participating in a PanCAN
PurpleStride
event near you!
On April 4, 2017, I got clean bill of health. I'm no longer meeting with my oncology team on a quarterly basis; we're meeting now semi-annually, and that will end soon and move to yearly.
I encourage others diagnosed with various kinds of cancers to hold on to HOPE.
I am thankful that PanCAN exists.