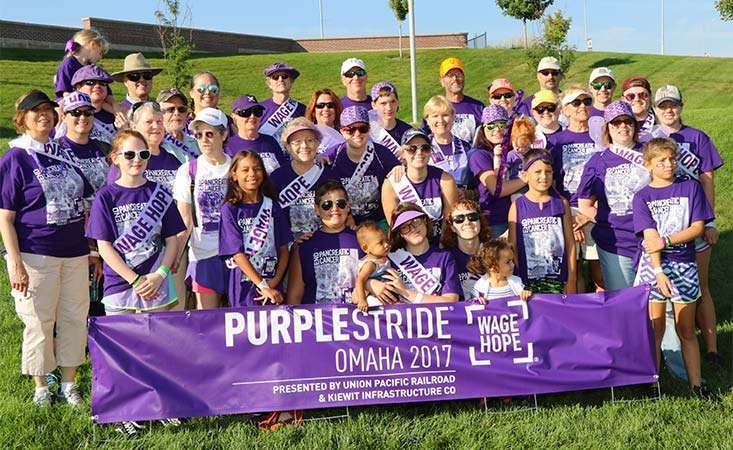 After a pancreatic cancer diagnosis, Whipple procedure and treatment, Denise Johnson of Kansas City knew she wanted to do something during her recovery to get moving again.
"When I could barely walk, I read about the PurpleStride fundraiser in Kansas City and thought to myself, 'I wish I could participate, but I can't walk far enough,'" Johnson said. "Being stubborn, I began walking. First around the house, then down the driveway and back and finally, around the neighborhood."
While she was working on lengthening her walking distance, another friend was diagnosed with the disease. His daughter organized a team to walk in PurpleStride Kansas City 2013. Johnson donated to their team, since she wasn't sure that she could walk the entire 5K.
"After making the donation, I found myself still thinking about walking in a PurpleStride. The following year my daughter happened to be in town on the weekend of the walk. We went down the day before the event, registered and ended up walking the entire 5K!"
Johnson went on to walk in PurpleStride two more years with her daughter in Kansas City and then with her other daughter in Dallas.
And so began a family affair.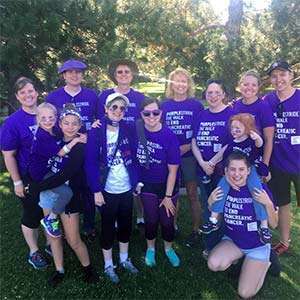 Johnson participated in multiple PurpleStride events with her family – culminating with her in-laws joining in on the fun. Eleven family members travelled to Illinois to join the movement at PurpleStride Chicago 2016.
But Denise Johnson and her family didn't stop there.
"We had so much fun that year being together – walking along the lake shore in the mist and rain – but when we asked the grandkids what we could do to make it better, their answer was more time together," said Johnson.
"Our youngest daughter was feeling left out because I had never come to Omaha to stride with her. Ironically, my husband and I grew up in southwest Iowa, making Omaha an old stomping ground with family still located there.
"Because of family reunions on my husband's side and mine that coincided with PurpleStride Omaha, and with the help of email and the internet, we brought a team of over 40 'Walking Warriors' to show support at the walk to end pancreatic cancer."
Johnson and her family spent four days together not only taking part in PurpleStride, but also having fun and raising awareness everywhere they went.
"We wore our purple shirts all around, which drew attention to our group and generated comments and questions from total strangers."
In 2018, the Walking Warriors were at it again at PurpleStride Denver, where 13 family members paraded the streets in purple, with no intention of stopping this newfound tradition anytime soon.
"My grandchildren are already asking about next summer," said Johnson.
"The question is no longer, 'Will I be able to walk?' It is now, 'Where will I walk, and who's going to join me?'"
Visit
purplestride.org
to find a walk near you and raise critical funds for pancreatic cancer.