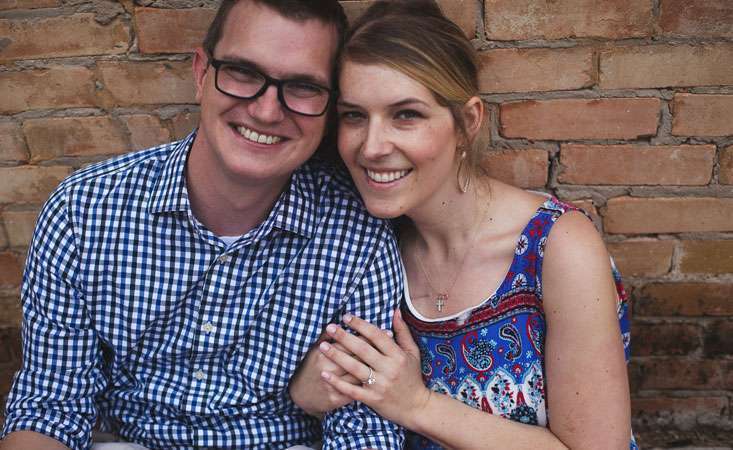 Before Allison Lippman of Dallas met her now-husband, she was not convinced she wanted to date anyone. "I was turning 30 and wanted to be single, focus on my career and travel."
But life doesn't always go as planned, and when a mutual family friend set them up for dinner, Lippman realized she and Eric had many things in common, including their love for travel.
Their first big trip together, a weeklong expedition to France in April 2017, was "absolutely amazing and the trip of a lifetime."
But shortly after they returned, Lippman started feeling ill. She recalled, "I had a lot of pain in my side and was having trouble digesting food. And, my energy was dwindling.
"After seeing multiple doctors and not receiving a clear answer, I felt lost."
After a month of "toughing through it," her pain landed her in the emergency room. After multiple tests, Lippman was told there were lesions on her liver, but she remembers not knowing what that meant.
Surrounded by her parents, who came up to Dallas to be with her, and her boyfriend, Lippman said, "Everyone knew I was on an oncology floor, but I was not able to process everything."
The shocking diagnosis turned out to be a very rare type of pancreatic cancer, known as acinar cell carcinoma. And the liver lesions meant it had metastasized, so Lippman had stage IV disease.
She met with her oncologist on her 31st birthday and discussed her treatment plan. "All I heard was 'chemotherapy,'" she said, "and I knew my hair would fall out.
"It was the worst birthday ever."
Seeking a second opinion, Lippman went to UT Southwestern Medical Center. There, she met with an oncologist who was "patient and kind," and she decided to continue her treatment with him. He recommended sending tissue from her biopsy off for molecular profiling to see if they could find out the "why" behind her diagnosis.
Every pancreatic tumor is different. The Pancreatic Cancer Action Network (PanCAN) strongly recommends molecular profiling of your tumor to help determine the best treatment options.
Contact Patient Services
for information about molecular profiling and Know Your Tumor®, PanCAN's precision medicine service.
"I had never heard of molecular profiling or genetic testing. But through it, I learned that my tumor had a very rare alteration, known as a RET fusion."
Lippman continued, "I had been doing chemotherapy every other week for seven months. I couldn't imagine life without it. But my doctors were really excited about my tumor's rare alteration and encouraged me to transition to a targeted therapy."
As she pondered the decision, Lippman remembers sitting on the couch on a Sunday afternoon, and after removing her 48-hour chemo pump, she asked her mom what she should do next. Her mom answered, "Let's just see what they say at MD Anderson [where a relevant targeted therapy clinical trial was taking place] and go from there."
That turned out to be Lippman's last chemo session.
Upon meeting with the team at MD Anderson, Lippman still had some lingering concerns about switching to a targeted therapy clinical trial. "But I had my parents and fiancé with me – my boyfriend had proposed to me before my fifth round of chemo – and I saw their hope and knew I had to try it.
"Eric must have believed in me to want to promise a future to me! So, on top of trying to get back to a 'normal' life, I was planning a wedding," Lippman said.
She added, "My drive behind everything was my fiancé and my family. I was just so thankful it was me that got the diagnosis, not them. I think it takes more strength for the family and friends watching, than the patient going through the treatments."
In January 2018, Lippman started a clinical trial testing a drug specifically designed to target her tumor's RET fusion. She said, "I have slowly regained my strength, gained weight back, my hair has started to grow back, I returned to work and got married. The trial has been phenomenal, and my tumors are shrinking."
Lippman continued, "Although I am gaining my physical strength and health back, no one prepared me for the mental battle that comes with fighting cancer. Now it's time for me to mentally heal and focus on the positive future I have ahead of myself. Part of this new chapter includes sharing my story – it's part of my healing process."
Contact PanCAN Patient Services to learn more about molecular profiling and treatment options, including clinical trials, and for any questions about the diagnosis, treatment or management of pancreatic cancer.
Any treatments, including clinical trials, mentioned in this story may not be appropriate or available for all patients. Doctors take many things into account when prescribing treatments including the stage and type of cancer and the overall health of the patient. Contact PanCAN Patient Services for personalized treatment options.