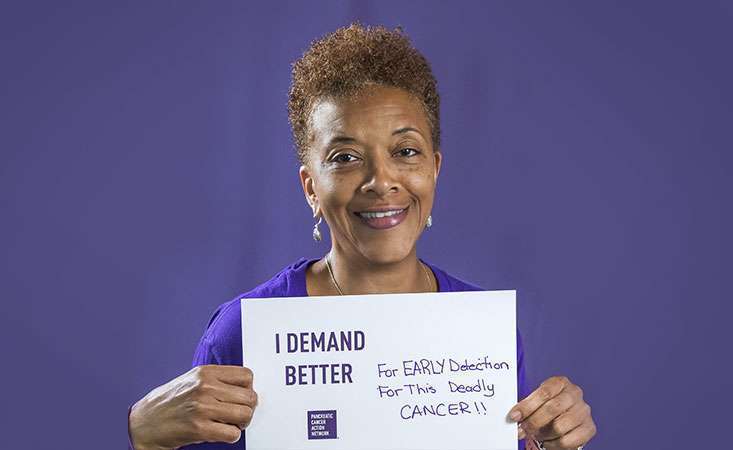 Editor's note: Angela Robinson is a volunteer leader for the Pancreatic Cancer Action Network (PanCAN), serving as the Team & Individual Development Chair for the Washington, D.C., Affiliate.
Why are you passionate about raising awareness for pancreatic cancer, Angela?
My mom was diagnosed with pancreatic cancer in August 2017. When we met with the doctor, hearing him say, "There is no cure," was not a shock, but of course it hit us hard.
My mom was a retired nurse, and she knew, but it's still very hard to accept. She was 82 years old. She had a lot more she wanted to do. And we had a lot more for her to do.
Unfortunately, a lot of people, like my mom, are diagnosed too late. Early detection is so critical.
A 9 percent five-year survival rate is just awful. More awareness about the symptoms is needed, as well as awareness about the need for research funding, and of course patient advocacy – all the things PanCAN does.
Did your mom have symptoms?
She did have digestive problems, but that was normal to her. She didn't have jaundice, didn't have a family history of pancreatic cancer, didn't smoke. She was diagnosed at stage 3.
When we found out she had pancreatic cancer and she moved to my area so I could care for her, I contacted PanCAN Patient Services. We wanted to know about clinical trials, the best treatment options, the best facilities to get treatment.
Right away I got a wealth of information from PanCAN Patient Services, and it made me feel better knowing there was information out there to help me better understand the disease and better care for my mom.
What would you encourage others to do who are thinking about getting involved?
Sign up! Advocate. Go to a PurpleStride. Fundraise. Speak to everyone you know about pancreatic cancer. A lot of people know someone who has been affected.
Ask people for their support – whether it's asking them to donate what they would've spent on coffee for the day, week or month – don't be afraid to ask for what you need.
PurpleStride is the signature fundraiser for PanCAN – it's the walk to end pancreatic cancer. It's one way we can Demand Better for people fighting pancreatic cancer. My mom passed of pancreatic cancer this year, in January, so that is how I honor her.
To see all the survivors and families – all the togetherness, and the community – at PurpleStride this year and know I was raising awareness and funds was a great feeling. It meant a lot to me to be there in memory of my mom and for all those fighting.