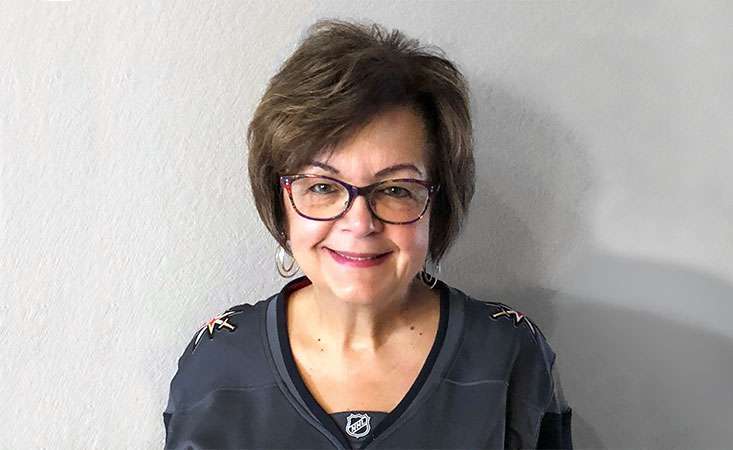 Editor's note: Our "It Starts with Someone" series chronicles all kinds of Pancreatic Cancer Action Network (PanCAN) supporters – volunteers, survivors, caregivers, advocates, researchers – and describes the "someone" who has impacted their efforts in the fight against pancreatic cancer. This week's "someone" is nurse practitioner Nikki Campagna. This is her story.
For more than a decade, Nikki Campagna, FNP-BC, MBA, DNP, has worked as an oncology nurse practitioner. In that time, she's provided comfort, treatment and care to cancer patients from all walks of life. While the days can be difficult, she said the work is rewarding.
"My patients have taught me that every day is a gift," said Campagna, who lives near Las Vegas. "I've learned how important it is to treasure the special moments we have; to take the time to enjoy life."
One of the ways Campagna enjoys life, both professionally and personally, is by giving back. Caregiving runs through her veins, so she's committed herself to volunteering for several causes, including the Pancreatic Cancer Action Network (PanCAN). Currently, she serves as mission chair for her local affiliate.
While she's helped cancer patients throughout her career, it wasn't until her brother-in-law died from pancreatic cancer in 2014 that she decided to do more. She joined PanCAN's Las Vegas Affiliate and has been able to provide the local chapter with the unique perspective of a health care provider. In return, she said the information that she's learned through her opportunities with PanCAN has helped her become a better nurse practitioner.
"I can bring feedback from the patients I work with to PanCAN, while also utilizing in my workplace the tools PanCAN has given to me," Campagna explained. "I personally refer my pancreatic cancer patients to PanCAN's PanCAN Patient Services. They can learn more about Know Your Tumor®, the Survivor and Caregiver Network and information about the latest support services, research and treatments."
And Campagna's dedication to improving patient outcomes is getting her noticed. VEGAS INC, a business-focused magazine, just presented her with its Health Care Headliners award for nursing. In its 12th year, the annual awards recognize 12 professionals in the Las Vegas area going above and beyond in their respective fields.
"It was very gratifying to be acknowledged," she said. "I was in awe that they would notice something that is just part of my day. I've become so used to caring for patients and I've done it for so long, that I didn't realize the impact I was making."
Her impact goes beyond the bedside. As a PanCAN volunteer, her remarkable achievements include connecting with pancreatic cancer patients and their families, raising awareness of the disease and PanCAN's services and helping fundraise for PurpleStride Las Vegas, which recently raised nearly $140,000 – almost $30,000 more than the goal.
Whether working as a cancer nurse practitioner or as a PanCAN volunteer, Campagna said collaboration is key to improving the lives of people living with disease.
"It truly takes a village," she added. "We have major goals. If we are to double the pancreatic cancer survival rate by 2020, then it will take all hands on deck. With everyone's involvement, we can attack pancreatic cancer on all fronts."
Read more about Campagna's recent recognition in VEGAS INC.