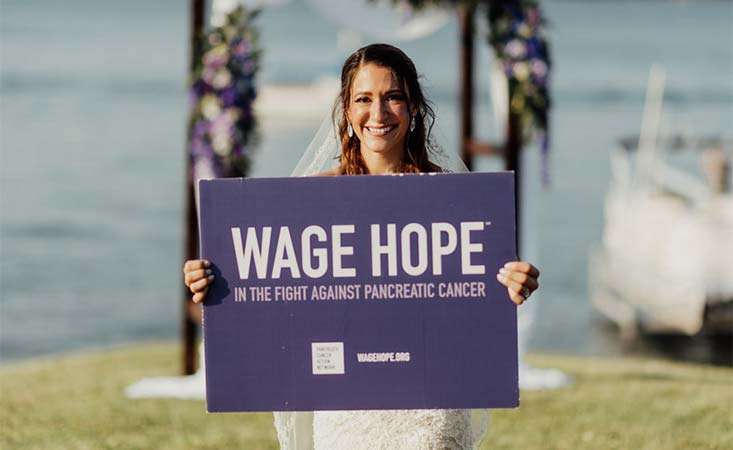 Many young girls dream about their wedding day. They often picture every detail from the gorgeous white gown that will make them feel like a princess, to how the bridal bouquet will be arranged, to what song will be playing as their father escorts them down the aisle toward their future spouse.
Stephanie Pieklik may have had all of those details planned when she was very young. But after her father, Frank, passed away from pancreatic cancer when she was just fifteen years old, plans changed.
"My dad was the police sergeant in charge of security at the Syracuse airport," Pieklik said. "At a check-up following his annual physical, the doctors found his bilirubin levels were elevated, which eventually led to his diagnosis." Frank passed away in 2007 after a five-month battle with the disease.
A few years after her father's passing, Pieklik found the Pancreatic Cancer Action Network (PanCAN) and knew she had to get involved.
She currently serves as both the Advocacy Chair and Outreach Chair for her local PanCAN affiliate and recently attended her seventh National Pancreatic Cancer Advocacy Day in Washington, D.C. She's even become known as the "purple girl" amongst family and friends, as she has proudly filled her life with the color of pancreatic cancer awareness.
Therefore, when it came time to plan her wedding this summer, she didn't have to think twice about the theme.
"It was a natural decision for me to have the theme and decorations be purple," Pieklik said. "From the flowers in my bouquet, to the bridesmaid dresses, to the tablecloths. I wanted everything to be PanCAN purple."
Pieklik's new husband, Scott, was very supportive of the color choice throughout the entire process.
Scott lost his mother to cancer when he was a teenager as well. This sad fact was something the pair bonded over when they met in Turks & Caicos when they were nineteen and on vacation with their respective families.
In addition to purple accents, Pieklik's wedding included a few special guests with their own pancreatic cancer connections; other PanCAN volunteers she has become close to from her local affiliate and attending Advocacy Day. Attendees included Survivor Council member Ralph Cheney, Iowa affiliate members, Wendi Cihacek, Lois Cihacek, Megan Barber and Kelly Barber, as well as Mike Linse from Oklahoma.
"I share a very special bond with my PanCAN family," Pieklik explained. "Having them come from all across the country to support me on my wedding day means so much to me."
The ceremony took place at Pieklik's grandparent's home on Skaneateles Lake in Upstate New York, the same location where Pieklik's parents were married almost exactly thirty years prior. Pieklik also wore a simple diamond necklace her father had given her shortly before he passed.
While Pieklik's older brother was the one to walk her down the aisle to Scott on their wedding day, she could still feel her dad's presence.
"Being surrounded by purple at my wedding was a silent, but powerful way for me to feel like my dad was there with me on my big day," Pieklik said. "He was just watching from the best seats in the house."
Inspired by this story? You can make a difference, too.
Get involved
today.