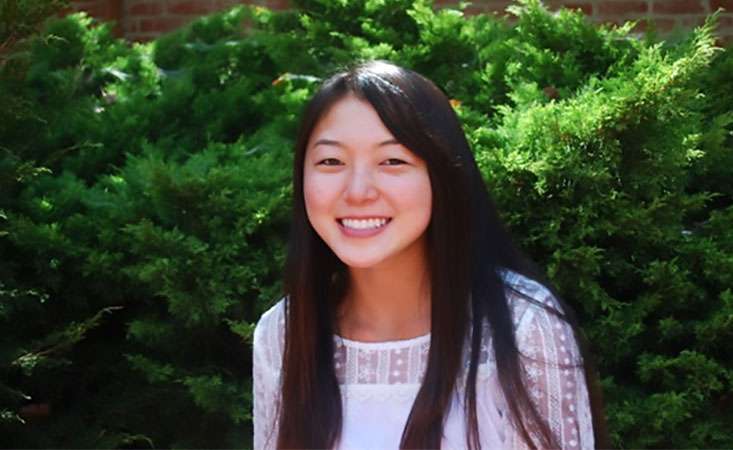 Editor's note: Since this story was published, Otera completed her Girl Scout Gold Award project and created two videos about early detection for pancreatic cancer and diet and nutrition for patients. She has also visited southern California hospitals to deliver care packages that include PanCAN's PanCAN Patient Services brochures so that patients and caregivers can get vital information about the disease and treatment options.
Part of the Girl Scout promise is to "help people at all times." For Dana Otera of Palos Verdes, Calif., a 10-year veteran of the Girl Scouts, that promise hits home.
Otera, 16, dedicates much of her time to volunteering as a way to honor the memory of her grandfather, who passed away from pancreatic cancer in 2013. She does this in addition to playing golf and participating on her high school's speech and debate team.
"I remember we'd always run errands on Monday together and go grab treats afterward," Otera said of her grandfather. "When we got home, we'd always play handball, too. I loved the smile he always had on his face, and I want to do everything I can to honor the amazing person that he was."
Otera first got involved with the pancreatic cancer community in summer 2016 along with her mom, Akemi Fukushima. They both have a passion for making pancreatic cancer a priority in the eyes of the public, medical world and research community.
Otera recently interviewed a survivor as part of Voices of Hope, a Pancreatic Cancer Action Network volunteer-led program that connects young people and pancreatic cancer survivors. She will attend our 10th anniversary of Pancreatic Cancer Advocacy Day with her mom this June in Washington, D.C., and is dedicating her "Gold Award" Girl Scout project to helping pancreatic cancer patients.
For her "Gold Award" project, which is the pinnacle task as a Girl Scout, she'll develop a video about nutrition and what is currently being researched regarding early detection for pancreatic cancer. She's also creating a survivor package that will be handed out at PurpleStride Los Angeles.
"The packages will have resources for survivors as well as a handmade bracelet," Otera said. "I want to be creative and be able to spread the message of hope. I want to also pass out these packages to pancreatic cancer patients at local hospitals."
Thorough her work, Dana is demonstrating that it's vital for young people to get involved.
"Since pancreatic cancer is the third leading cause of cancer-related deaths in the United States, there's a huge need for people of all ages to become more aware," she said. "Young people are the future and we need more of them to make the message of hope even louder. Every voice and every contribution counts!"
When asked about her daughter's determination, Fukushima said that it's in her daughter's nature to help others.
"Dana has always been a thoughtful and giving person," she said. "She strives to better any situation. Her grandfather would be so proud and touched by her efforts to fight pancreatic cancer. He knew how special she is and that her determined mindset would make a positive impact on others."
Register or donate to a PurpleStride event near you to make an impact on patients' lives.