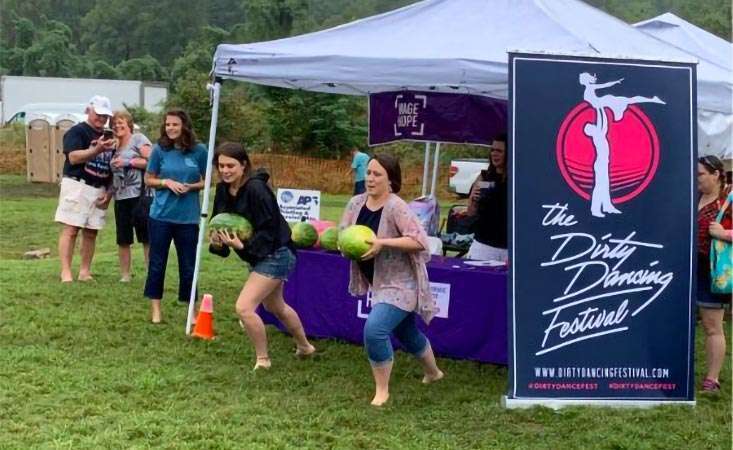 While greeting festival-goers stopping by the Pancreatic Cancer Action Network's (PanCAN) information table at the "Dirty Dancing Festival" earlier this month, Danielle Gentry-Barth won't forget the gentleman who stopped by to share that he had recently lost his father to pancreatic cancer.
"Tears filled his eyes," said Gentry-Barth, a PanCAN volunteer leader who traveled from her home in Cincinnati for the event.
"He tried to tell me more about his family's experience, but like so many of us who have also been through it – he couldn't get the words out. I couldn't do anything but run around the table and hug him for at least five minutes.
"That pain is a reminder of why we must continue our fight."
Continuing the fight is what some 3,000 attendees of this year's festival – the 10th annual – were doing on Sept. 13-14 in Lake Lure, N.C., the tiny picturesque town where select scenes from the classic "Dirty Dancing" movie were filmed.
The movie-inspired dance, music, arts and entertainment festival started in 2009 to pay tribute to the late actor and star of "Dirty Dancing," Patrick Swayze.
Swayze died of pancreatic cancer that same year after a 20-month fight with the disease. Since 2013, the festival has raised funds to benefit PanCAN – this year's event raised more than $9,000.
A lakeside screening of the 1987 movie is always a highlight of the weekend, as well as a watermelon-carrying contest, talent show and "lake-lift" competition for couples eager (and brave enough) to attempt "Johnny's and Baby's" iconic dance move from the movie.
This year's festival again welcomed special guests Stacy Widelitz, who co-wrote and performed one of the movie's hit songs, "She's Like the Wind," alongside Swayze, and Franke Previte, who wrote "Hungry Eyes" and the equally popular and award-winning, "(I've Had) The Time of My Life."
Widelitz and Previte were among several featured performers onstage. The two also participated in a meet-and-greet with fans and shared with them their experiences and friendship with Swayze.
Swayze's widow, Lisa Niemi, sent special remarks to the attendees via a pre-recorded video message.

Lisa Niemi, Patrick Swayze's widow, sent a special video message to festival guests to thank them for supporting the fight against pancreatic cancer.
"Thank you for showing up and supporting the fight against pancreatic cancer," Niemi said in the video. "Patrick fought very hard against this disease, and if bringing awareness brings one iota of help to (others), he would consider it his highest honor."
Niemi's message ended with her telling the attendees to: "Have the time of your life! Have fun, and thank you!"
Since Swayze's death, Niemi has been an outspoken advocate for more federal research funding for pancreatic cancer at PanCAN's National Pancreatic Cancer Advocacy Day. She is also a PanCAN donor and ambassador for the organization and the cause.
PanCAN volunteer Gentry-Barth, who lost her stepfather and stepmother to pancreatic cancer, was appreciative of the event's focus – to raise awareness and funds for the disease while paying tribute to the beloved Swayze.
"I am also grateful to have been able to be at the event and to connect with people who need hope," she said.
Improve outcomes for pancreatic cancer patients by
fundraising
for the cause in your own way.