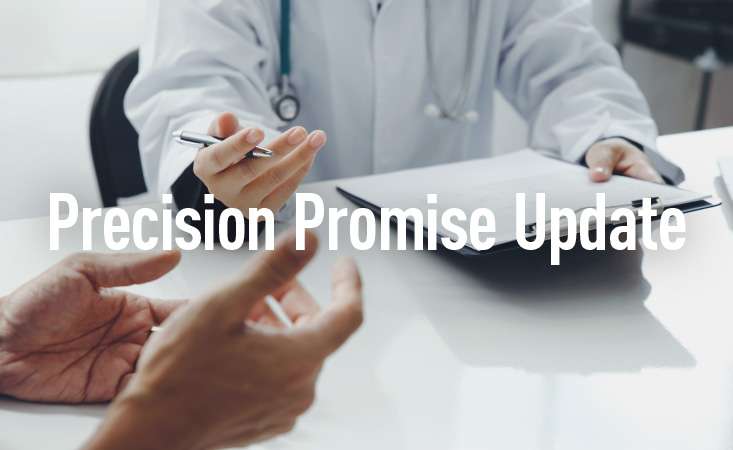 PanCAN's Precision PromiseSM adaptive clinical trial platform was created to determine whether an experimental treatment is beneficial to patients with metastatic pancreatic cancer – and to do so in less time, with less money and with fewer patients than traditional clinical trials.
Throughout the design and execution of the trial, the patients – and their safety – are at the center of every decision.
The adaptive nature of Precision Promise allows multiple experimental treatments to be compared to several standard-of-care treatment options at the same time.
An expert Data Safety Monitoring Board (DSMB), composed of oncology specialists and statisticians, regularly watches patient outcomes and reports of side effects to determine whether a treatment should continue in the Precision Promise trial.
Recently the DSMB informed PanCAN that enrollment of patients in the first experimental treatment tested within the trial, TYME Technologies, Inc.'s SM-88, had been discontinued because this arm did meet futility. Patients treated with SM-88 alone showed a lower overall survival rate than patients treated with standard chemotherapy. Importantly, the DSMB did not notice any unusual toxicity signal in the SM-88 arm.
"While it is always disappointing when a drug fails to work, the purpose of Precision Promise's adaptive design is to determine more quickly whether a treatment is working, and if it is not, to discontinue giving it to patients," said PanCAN President and CEO Julie Fleshman, JD, MBA.
"We're grateful to our partners at TYME for developing a drug for the treatment of patients with pancreatic cancer and for agreeing to test their experimental drug within our platform."
Clinical trials are the only way to determine whether an experimental treatment option is safe and effective. All treatments available today were tested through clinical trials and then approved by the FDA. PanCAN strongly recommends that patients discuss with their oncologist if clinical trials are an option for them at diagnosis as well as during every treatment decision.
Precision Promise is currently open and enrolling patients at 17 world-class cancer treatment institutions around the country. It will open at 13 additional sites by the end of the year. Patients with metastatic pancreatic cancer who are receiving their first line of therapy or who have had one previous type of treatment may be eligible to enroll and receive treatment from the other arms currently open in the trial. More treatment arms will be added to find better treatment options more quickly. And patients' safety will continue to be carefully monitored by the DSMB.
"Discontinuing SM-88 shows that Precision Promise is functioning as it was intended: to learn faster with fewer patients," Fleshman added. "It also demonstrates that the platform trial design enables us to focus on experimental therapies that generate the most benefit to patients early in the study."