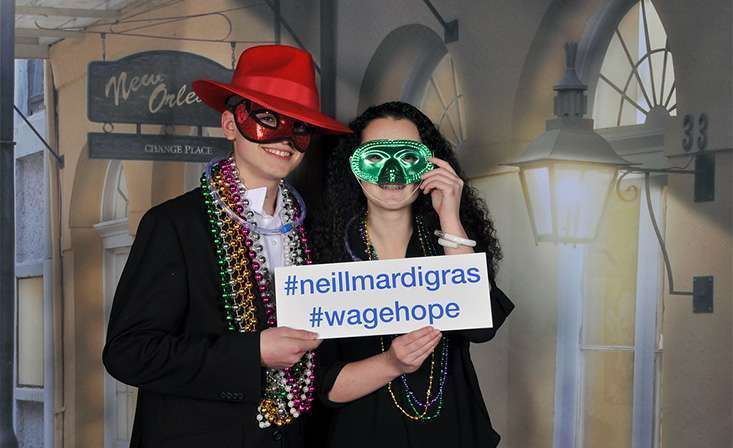 Editor's note: Our "Year in Review" series recapping the year's top stories in pancreatic cancer research, national news, volunteer contributions and more, continues today. See more of 2017's most notable stories.
Do-it-yourself (DIY) fundraisers were inventive and inspiring this year as they created opportunities to fight back against the world's toughest cancer. Some were first-time fundraisers, while others were marking the return of an annual event.
In all cases, their passion fueled their fundraising. Here is a small sampling of highlights from 2017: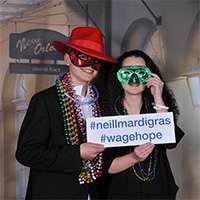 Earlier this year, Brayden and Spencer Neill hosted their
3rd Masquerade Birthday Mardi Gras Bash
, raising more than $5,000. They lost both their grandfathers to pancreatic cancer and were compelled to ask people for donations instead of gifts in their honor.  "The boys knew this was so much more important, not only to help those fighting today, but also those who will fight the disease in the future," said their father.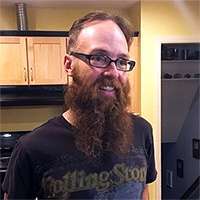 Steve Barber did a double dose of good with his
Wage Hope My Way
fundraiser. Barber pledged that if he made his goal, he'd cut off his 'magnificent mane of flowing, luxurious hair" and donate it to Wigs 4 Kids, an organization that helps children who struggle with appearance-related issues and social acceptance, due to various disorders.Barber surpassed his goal, so he cut his hair. The Barber family is committed to PanCAN's mission. His mother and sister are volunteers and his sister was instrumental in garnering a Pancreatic Cancer Awareness Month proclamation in 2016. "Once people hear about something like the Pancreatic Cancer Action Network, it hits close to home and they naturally want to help," Barber said.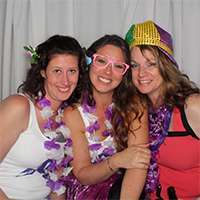 Rachel Witt's mom, affectionately known as MIM, loved the beach. To honor her memory and fundraise for her PurpleStride Cincinnati "Team MIM," Rachel decided to
throw a luau
. In seven weeks, friends, family and community members helped put it together. They raised more than $10,000 for Team MIM. Of the night, Rachel said, "There were probably 200 people there and out of that, only about 25 I didn't know."  She said that next year she's going to need a bigger venue. "Three hundred people and $15,000 – that's my goal."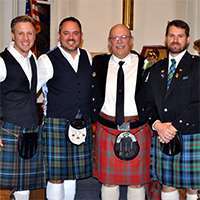 The Roberson family created an international event,
Crossing Alba: A Pilgrimage Home
, to honor family members lost to pancreatic cancer. Hiking and camping across Scotland, from the Isle of Mull to their ancestral home of Pitlochery, Donavon Roberson, along with his father, Dan; brother, Adam, and cousin Devon covered 168 miles clad in their clan's tartan kilts. Along the way, they connected with
Pancreatic Cancer Scotland
, a member of the
World Pancreatic Cancer Coalition
, and had a chance meeting with an American who was a six-year survivor.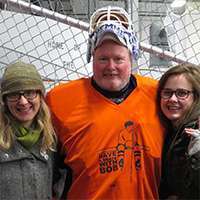 Bob Klem, a lifelong hockey player, continued a 10-year tradition of hosting "all-star" ice hockey games across the country, raising funds for pancreatic cancer research.
The Have a Skate with Bob Foundation
(HASB) has raised more than $165,000 in memory of Klem's wife, Becky, and friend Tom Jacobson. Off the ice, HASB sponsors PurpleStride events in Chicago, St. Louis and Kansas City. "Becky's biggest fear wasn't dying," said Klem. "Her biggest fear was that our daughters, Rachel and Sarah, would forget her."The family wasn't going to let that happen, and The Have a Skate with Bob Foundation was launched.
These folks and so many others took remarkable actions to help end pancreatic cancer in 2017. What will you do in the New Year? Take your own action to demand better for patients and survival in 2017 by hosting a DIY fundraiser.