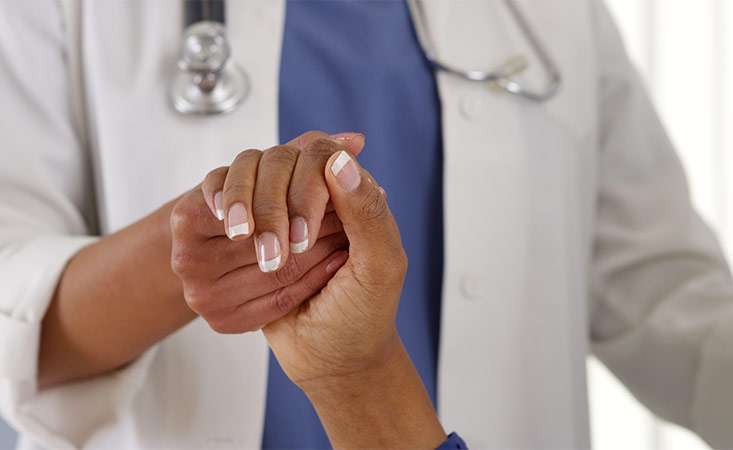 Editor's note: We join the nation in mourning the death of Sen. John McCain to glioblastoma, an extremely aggressive form of brain cancer. Like pancreatic cancer, glioblastoma has one of the lowest five-year survival rates of all major cancers.
In the days leading up to McCain's death, his family issued a statement announcing that he had chosen to "discontinue medical treatment," which prompted a discussion about the differences in treatment intended to stop cancer growth vs. palliative care and end-of-life care. Below, we explain the differences and dispel common myths.
Receiving a diagnosis like pancreatic cancer can be overwhelming for a patient and their loved ones. It's important for patients to feel comfortable and supported by their healthcare team. The Pancreatic Cancer Action Network (PanCAN) strongly recommends seeking a healthcare team that suits all your physical, mental and emotional needs.
Below are common myths about choosing treatment intended to fight cancer vs. when to integrate supportive (palliative) care and when to transition into hospice and end-of-life care.
Myth #1: Patients should choose the most aggressive cancer treatment available.

Fact: When making treatment decisions, patients and their healthcare providers should seek to balance the potential effectiveness of the treatment with possible side effects that may impact the patient's overall wellbeing and ability to tolerate additional treatment.
You are your own best advocate. PanCAN strongly recommends that you discuss your treatment goals with your healthcare team and know all your options at every stage of your disease.
Myth #2: Patients must choose between cancer-fighting medicine and palliative care.
Fact: Seeing healthcare professionals who focus on symptom management and supportive (palliative) care improves outcomes and is critical for your quality of life. PanCAN strongly recommends that symptom management and supportive (palliative) care be provided early in your diagnosis as well as during and after treatment.
"Supportive (palliative) care can involve pain management, dietary and nutritional recommendations, including use of pancreatic enzymes, and caring for patients' psychosocial needs," said Nicole Feingold, MA, director of PanCAN's Patient Services. "Supportive (palliative) care absolutely can and should be provided alongside treatments aimed at shrinking the tumor and prolonging the patient's life."
Myth #3: Palliative care is the same as end-of-life care.
Fact: Sometimes people use the terms "palliative care" and "hospice care" interchangeably, but supportive (palliative) care refers to medication and resources that are provided in conjunction with chemotherapy, radiation and other therapies meant to treat the patient's cancer. Hospice care is provided toward the end of a patient's life and focuses on making the patient and their family as comfortable and comforted as possible.
"Recent updates to the National Comprehensive Cancer Network's (NCCN) guidelines for the treatment of pancreatic adenocarcinoma, the most common type of pancreatic cancer, include recommendations for supportive (palliative) care specialists to be part of a patient's multidisciplinary team," Feingold said. "This aligns nicely with PanCAN's recommendations and provides an important reminder that supportive (palliative) care can impact a patient's quality of life as well as their outcome."
Myth #4: A patient who enrolls in hospice care is quitting or giving up hope.
Fact: The goal of hospice is to provide quality, compassionate care for people with life-limiting illnesses until death occurs naturally. Many people are afraid to ask about hospice care because they believe that using hospice means giving up.
Hospice is not about giving up. Choosing hospice allows families to focus their energy on quality of life. Hospice care provides an opportunity to make meaningful choices and to have those choices respected.
"Pancreatic cancer is a very complex disease – no two patients or their diagnoses are exactly the same," Feingold said. "Decisions of which treatments to start and stop, how to incorporate supportive (palliative) care and when to transition to hospice care are extremely personal and unique to each individual."
She added, "The PanCAN Patient Services team is here to support you and your loved ones every step of the way."