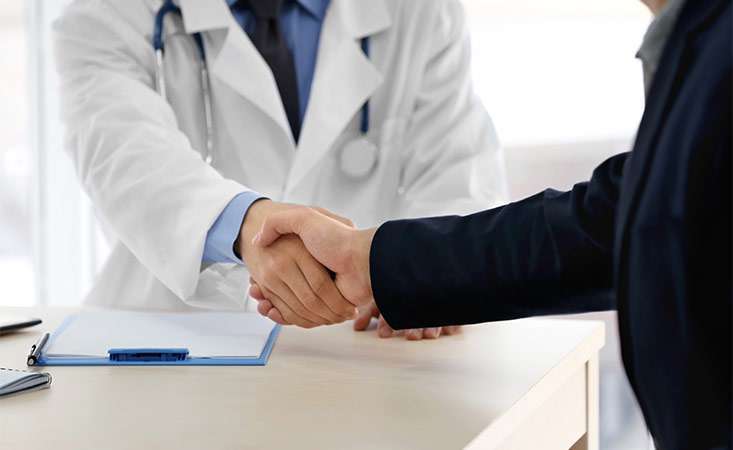 Pancreatic cancer patients who participate in clinical research have better outcomes. Every treatment available today was approved through a clinical trial. The PanCAN strongly recommends clinical trials at diagnosis and during every treatment decision.
Even so, PanCAN's PanCAN Patient Services hears many questions and concerns from patients and caregivers about clinical trial safety. Rest assured, patient safety is a top priority in all clinical trials, and patients have rights that protect them.
Below is a list of five top reasons that clinical trial participation is safe.
Patients provide informed consent. Before participating in a clinical trial, patients must sign an informed consent form. Providing informed consent means that the patient is comfortable with the logistics of the trial, including the treatment regimen, predicted duration of the trial, any additional testing necessary and potential side effects.Before signing an informed consent form, it's important that the patient ask as many questions as they can – including gathering questions and concerns from caregivers and other loved ones. PanCAN Patient Services can provide a list of suggested questions that could be helpful to ask.
Clinical trials have specific eligibility criteria. Trials are carefully designed to specify which patients can and cannot participate – to maximize the information that can be gathered, to ensure that the investigational treatment is given to patients most likely to respond and to make sure the trial is conducted safely. Types of criteria for clinical trial eligibility include the patient's diagnosis, prior treatments received and other relevant clinical features.Through PanCAN's comprehensive database of pancreatic cancer-specific clinical trials across the United States, patients, caregivers and physicians can conduct a personalized search.

To take that personalization a step further, pancreatic cancer patients can undergo biomarker testing and genetic testing through their treating institution or PanCAN's  Know Your Tumor® precision medicine service, to determine the biological characteristics of their  tumors and their genetic makeup.

Patients are carefully monitored. Throughout clinical trials, patients are carefully watched and encouraged to share any new or worsening side effects that they experience. The investigators must gather this information as part of their eventual application for drug approval and – even more importantly – the healthcare team can alleviate side effects or adjust the treatment to make the patient the most comfortable and safe.
Patients will never receive a placebo, or "sugar pill," in lieu of standard of care. A common fear among prospective clinical trial participants is that they will receive a placebo. At minimum, all pancreatic cancer clinical trial participants will be given standard of care . Patients will be told if there is a possibility of receiving a placebo as part of the clinical trial.
Patient safety is everyone's priority. In order for a trial to be conducted, it first must go through rigorous scrutiny by an institutional review board (IRB) to make sure the trial is feasible, safe and designed in a way to gain valuable knowledge about the drug or drug combination being tested. In addition, patients can choose to discontinue their participation in a clinical trial at any time, for any reason.
Contact PanCAN Patient Services
for a personalized clinical trials search or for more information about clinical trials and anything related to pancreatic cancer.