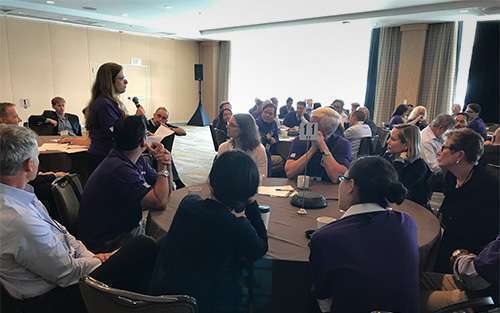 "This is a meeting like no other – and this is an organization like no other!"
Thus began the Pancreatic Cancer Action Network's 2017 Annual Scientific Meeting, which took place Aug. 17 – 20 in San Diego, Calif. The words were spoken by Steve Leach, MD, who was recently named director of the Norris Cotton Cancer Center at Dartmouth and is the chair of our Scientific and Medical Advisory Board's Research Committee.
The event brought together PanCAN's research grant recipients, current and emeritus advisers, Precision PromiseSM leadership and working groups, pharmaceutical industry partners as well as other special guests. It took place in conjunction with the organization's annual volunteer leadership training, also known as COLT.
"The Annual Scientific Meeting is an opportunity to build and strengthen our Community for Progress of researchers and clinicians dedicated to working together to fight pancreatic cancer," said Julie Fleshman, JD, MBA, president and CEO of the Pancreatic Cancer Action Network. "The ability to interact with volunteers – including survivors, caregivers and those who have lost loved ones to the disease – enhances the experience for everyone involved and motivates attendees to return to their labs and clinics energized to work toward our collective goal to double pancreatic cancer survival by 2020."
Leach added, "PanCAN's Community for Progress uniquely contributes to the sense of collegiality and unity that is exceptional in the pancreatic cancer community."
After being celebrated on stage at an opening general session for all attendees, the researchers split into Precision Promise and grantee tracks for the meeting. The grantee track highlighted our early-career award recipients and their projects – allowing their peers and senior investigators to provide feedback, ask questions, troubleshoot challenges and suggest future directions.
In addition, attendees were encouraged to identify opportunities for collaboration.
"My lab needs to perform an experiment requiring a technique that's new to us," said Nada Kalaany, PhD, recipient of a 2015 Career Development Award and author of a recently published important study about obesity-associated pancreatic cancer. "Another grantee at the meeting offered to help out and give the experiment a try. This work is currently in progress."
Friday afternoon ended with a facilitated networking session, bringing together all scientific meeting attendees from both tracks. Tables were carefully assembled to include junior and senior investigators, scientists and clinicians, academics and industry representatives. Each group was assigned a topic to discuss and then present to the entire room.
Participants were engaged and focused, and they enjoyed the chance to communicate on a more personal level with their colleagues.
Another highlight of the weekend was survivor Matt Wilson's presentation during the grantee session on Saturday morning. Wilson, 35, is a five-year pancreatic cancer survivor and a member of PanCAN's Volunteer Advisory Council. His remarks were met with an enthusiastic standing ovation and hugs and high-fives from the researchers.
"This is not something you'd see at other scientific meetings," added Leach, in response to Wilson's speech and the attendees' response. "Nothing is done in isolation. Everything has a purpose. All of your efforts, all of our collective efforts – as researchers, clinicians, volunteers, survivors – are an important part of the pancreatic cancer research enterprise."
To support potentially life-saving research and foster a robust Community for Progress, donate today.