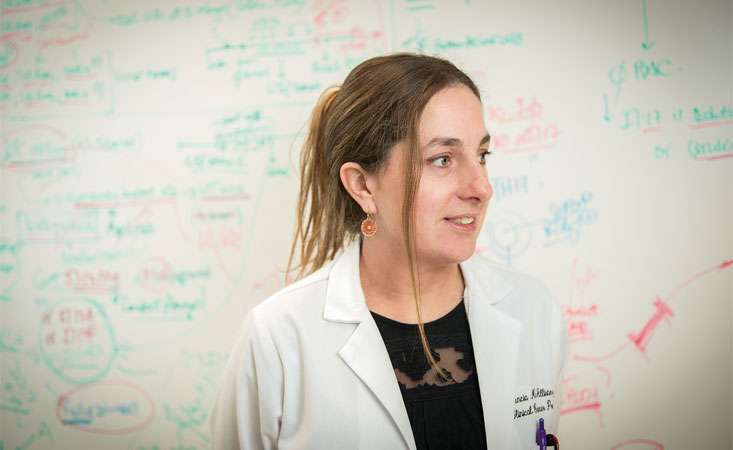 A new study out today in Cell links tumor bacteria to long-term pancreatic cancer survival.
Examining tumor samples from pancreatic cancer patients who underwent surgery, a research team led by Florencia McAllister, MD, assistant professor of Clinical Cancer Prevention at MD Anderson Cancer Center, found that those who survived five years or more (average 10 years) had diverse bacteria in their tumors, as compared to those who died within less than five years (average 1.6 years).
Further, they found that this higher diversity of tumor bacteria was more likely to trigger an immune system response. The immune system is the body's natural defense against infection and illness – and it's something pancreatic cancer is notorious for evading, and even suppressing.
Next, the researchers examined how the finding could lead to patient benefit.
A number of cancer studies suggest that the amount and diversity of gut bacteria may impact a tumor's growth and progression, as well as how well a person responds to certain treatments. This study, however, is the first to report an association between the tumor's bacterial signature, or microbiome, and patient outcomes.
Based on their finding that a fraction of the human pancreatic tumors' microbiome is identical to that in the gut, they theorized that modulating gut bacteria may influence bacteria present within the tumor. To this end, the researchers conducted experiments transferring gut bacteria from the long-term survivors to a pancreatic cancer mouse model – leading to tumor shrinkage and an enhanced immune system response. Importantly, this antitumoral effect was lost when the main immune cells were inhibited, suggesting that the bacteria ultimately relies on the immune system to attack the tumors.
Following up on these results, the researchers are investigating other ways to impact the bacterial microbiome within tumors. They're planning to conduct a clinical trial to further examine the link between gut bacteria and tumor bacteria, and how this relationship can help activate the immune system.
The initial research for this study was funded by one of several grants from the Pancreatic Cancer Action Network (PanCAN) awarded to lead study author, McAllister.
In 2014, eight years after her mother died from the disease, McAllister received a PanCAN Career Development Award, helping her establish an independent laboratory at MD Anderson. She was then able to leverage her PanCAN early-career funding to secure additional funding from the National Institutes of Health.
"PanCAN has been fundamental in my research and my career, not only because of the funding I have been so fortunate to receive but also because of the people and the mentorship I encountered through its annual meetings and gatherings. They have been my main source of scientific knowledge and inspiration" McAllister said.
"Being part of the PanCAN community has certainly been a huge stimulus to stay in the field and fight even harder to beat this difficult disease."
Help advance science dedicated to improving patient outcomes. Support researchers like Dr. McAllister.