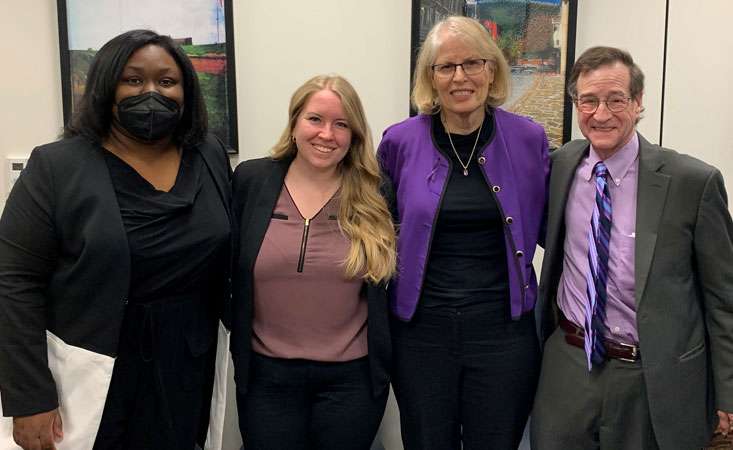 This month, members of Congress return to Washington, D.C., after spending the recess in their home districts. When they return, they will only have until September 30th to pass fiscal year 2024 spending bills to fund the federal government or a short term extension to avoid a government shutdown.
PanCAN advocates are ready to spring into action! We are reminding Congress that pancreatic cancer patients can't wait. The current version of the House bill that funds the National Institutes of Health (NIH) and National Cancer Institute calls for spending cuts that would slow down or stop much-needed research progress. In addition, The House of Representatives will likely vote on a bill that determines the amount of funding going to the Pancreatic Cancer Research Program at the Department of Defense.  Members of Congress must pass a bipartisan spending deal with increases to cancer research funding and support a $20 million dollar investment in cutting-edge pancreatic cancer research.
Congressional action on either of these bills, which  fund government agencies that invest in pancreatic cancer research, provides an opportunity for PanCAN advocates like you to remind their members of Congress, including over 80 new legislators who started in January, that funding cancer research is a priority for their constituents. During the recess, advocates across the country laid the groundwork for this push by meeting with their representatives in their home districts. Members of the Maryland Affiliate, including Advocacy Chair Susan Okula and long-term volunteers Ian Slepian and Kate Murphy, held four meetings with their representatives and staff.
Susan explains why PanCAN advocacy is important to her: "Because it works." Susan lost her first husband to pancreatic cancer in 2005; in 2007, she began participating in advocacy campaigns.
She has tracked PanCAN's progress since her initial involvement. "I've seen funding go up tremendously. I saw, simultaneously, the five-year relative survival rate going up. I saw the passing of the Recalcitrant Cancer Research Act. I've seen the electricity and excitement in the room from volunteers and how that transferred to the congressional staff members."
Advocacy is a personal cause for Ian as well. His late wife, Beth, was diagnosed with metastatic pancreatic cancer in 2016 and the couple got involved as volunteers and advocates a few years later. Beth was a tireless advocate.
During the summer of 2021, Beth was in an NIH clinical trial and participated in advocacy campaigns from her hospital bed, while receiving treatment. Ian keeps her legacy as an advocate alive through his own advocacy work and adds that Beth "lived for six years after undergoing 116 rounds of chemo, two hip replacements for arthritis, a clinical trial at NIH, Y90 radioembolization of the left lobe of the liver, and radiation to bones and brain, all the while maintaining optimism and showing kindness to others even until the end."
In-district meetings were an opportunity for advocates to share their stories and educate their representatives. Kate recalls that her "goal was to let them know that this is personal." Her late husband was diagnosed with stage IV pancreatic cancer and lived for six years after his diagnosis. She emphasizes that he lived for "six years, not six weeks, not six months," which she credits to the groundbreaking work done by pancreatic cancer researchers.
Susan, Ian, Kate, and other advocates who participated in in-district meetings during the recess are ready to jump in again when Congress returns to D.C.
Advocacy is a year-round movement and advocates will be most successful if they participate throughout the year, according to Susan. "The more you contact your lawmaker, the more they're going to remember that we're here. 'Hello, we're here, we're not going away. This is an important issue to us.'"
Ian echoes this sentiment, adding that "You want to let them know that you're still involved and remind them that this is important to us." It is critical for advocates to urge their members of Congress to make pancreatic cancer research a priority and pass a budget that makes progress possible.
The House is voting soon!
Contact your representative
now to demand $20 million in dedicated funding for pancreatic cancer research. Make progress today for patients and their families.