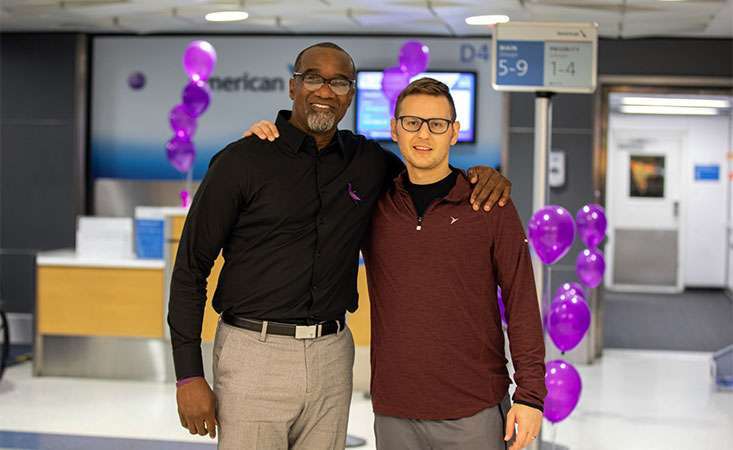 Editor's note: We are deeply saddened to share that Adam Deal died of pancreatic cancer in December 2020. His advocacy and support of PanCAN and the pancreatic cancer community have been an inspiration to so many people. We'll never stop fighting on his behalf.
All week long, we've shared stories of love, inspiration and special connections made through the Pancreatic Cancer Action Network. Today, on Valentine's Day, we wrap up the series.

Is there a more fitting place for a connection than the airport?
Ask Craig Irving of Washington, D.C., and Adam Deal of Cleveland, Ohio.
A heartfelt surprise – arranged by Craig to show love and care to his friend Adam, a pancreatic cancer survivor – played out in one of the country's busiest airports last month.
Joining Craig was a team of purple-shirted, balloon-toting fellow American Airlines coworkers and Pancreatic Cancer Action Network (PanCAN) staffers. A slew of airline passengers watched it unfold.
Here is the story of their connection through PanCAN, told by each of them in their own words.
Adam's View
We met last summer at PanCAN's Volunteer Summit in Los Angeles. We didn't really talk much, but I heard Craig tell his story, so I knew why he was involved in the cause.
I had recently lost friends to pancreatic cancer and was having a tough time. Later I learned that Craig was feeling the same way. I realized there was a reason I was there, and I needed to stop feeling sorry for myself, and get back involved to honor other survivors and people we've lost.
When I got back home, Craig had sent a message through Facebook.  
"Virtual brothers," he called us.
Our friendship blossomed. I could tell he had a heart of gold. He always has a kind, encouraging word – you can't say that about everybody. Also, he watched his sister go through pancreatic cancer, so he understands what I'm going through.
I've only seen Craig twice in six months, but I feel like I've known him my whole life.
Over time, we learned that we both travel to New York City a lot. He goes for work, and I go for cancer treatment. We realized that our travel schedules would line up on Jan. 29, so we arranged to meet up at LaGuardia Airport.
He said, "I'll meet you in the Admirals Club [American Airlines' lounge], and we can catch up there until our flights leave."
So we did. But before long, Craig got a phone call. When he hung up, he said, "Your flight's leaving early – we should go."
I thought to myself, "That doesn't sound right. This is LaGuardia – since when do flights leave early?"
But he works for American, so I figured he must know. We left, and as we turned the corner to my gate, I thought, "What is going on here?"
There were people all around wearing purple PanCAN shirts, clapping, and there was a big sign that said, "ADAM, your fight is a big DEAL, and we fight with you!!!"  
Turns out Craig had planned this surprise, asking the American employees to gather there and give me words of encouragement.
They gave me that and more – they donated airline miles, so I now get months of free flights for treatment. They also gave me Admirals Club access, which is a relaxing place to wait for my flight after a tiring day of treatment.
I was in shock. I called my family and my wife to tell them what had happened. They didn't believe me.  
At PanCAN we talk about the moments that matter, and that was a moment that will be with me forever. It speaks volumes about who Craig is. He has done such nice things for me, and I am so appreciative.
But even more important, LaGuardia is a very busy airport – and to be able to raise awareness there about pancreatic cancer was incredible.
How do I ever thank this guy?
I reminded him I'm a CPA. I said, "I can do your tax return for you!"
I'm still speechless. All I can say is, he got me – and he got me good!
Craig's View
I couldn't sleep the whole night before. So much adrenaline! I tossed and turned, thinking, "Can I really pull off this surprise?"
It all started with me not knowing where to go when my sister was diagnosed. I Googled and found PanCAN online. I was involved with PurpleStride for a few years, but then my spirits were down because I had lost my sister to pancreatic cancer a few years earlier, and then my mom died unexpectedly.
When I got the invitation in August 2019 to PanCAN's Volunteer Summit, I was reluctant. But I could hear my mom and sister saying, "You have to get back out there," so I went.
When I saw all the familiar faces and all the purple, something came over me, and I realized that was exactly where I was supposed to be.
My employer, American Airlines, had signed up to be a PurpleStride sponsor, and that was energizing me, as well as all the stories at Summit. We had to share our "why" and when I heard Adam's, and he was a survivor, it was even more clear I was exactly where I belonged.
It was like someone putting a key in my lock, twisting it, and having everything in me turn back on. My purpose, vision and mission were as clear as day. I was moved to tears.
I would have given my life for my sister to beat pancreatic cancer.
I now know that Black Americans have a higher risk of developing pancreatic cancer, and they also die from the disease at a higher rate.
My sister Vi may be one of those statistics. But I can make sure she lives on through "the Adams" of the world.
When I got back to D.C., I sent Adam a Facebook message and said, "I want to let you know that your story gave me my 'why' back."
We get our blood family through DNA, but the universe and God give us families that are not connected by DNA – and often we find deeper connections there. I truly believe Adam and I were meant to be brothers.
Months later, when we realized we would be able to get together in New York, we were as excited as little kids. Brothers who had been separated.
I decided I wanted to surprise Adam when we met up. And I wanted my colleagues to meet him. I knew they would love him. "I have a friend in the fight," I told them. "Best guy you'll ever meet."
I got a banner made and asked them if they would join me in surprising Adam and supporting him like they supported me when I went through pancreatic cancer with my sister. They were like, "Of course! Can we do more?"
And they did so much more.
Adam is the most unselfish person. He told me that he appreciated the surprise, but the number one thing that meant the most was the awareness it brought to pancreatic cancer.  
With Adam, it's never about Adam.
He is a walking purple heart.