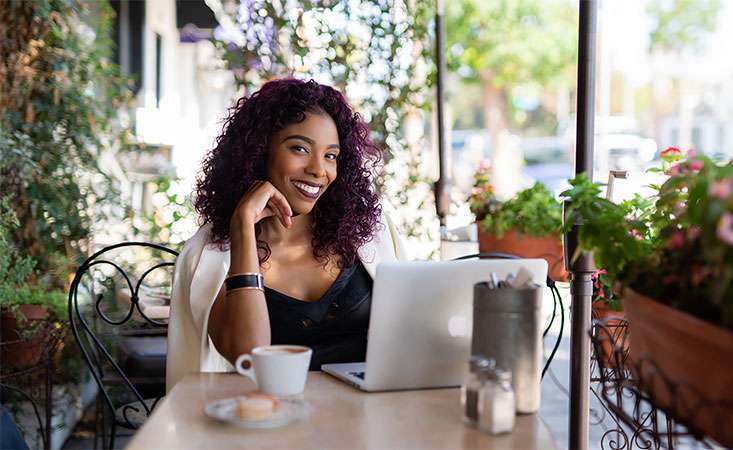 Editor's note: All week long, leading up to Valentine's Day, we're sharing stories of love, inspiration and special connections made through the Pancreatic Cancer Action Network. Come back for a new story each day.
Bella Graham has gained much.
On staff at the Pancreatic Cancer Action Network (PanCAN) national office, a renewed sense of community, a special kind of support from a compassionate team of colleagues and connections with a whole lot of people who have been right there in her shoes – people who have been through pancreatic cancer, too.
"I found PanCAN at the right time," Graham said. "It's been a blessing."
She Was Only 19
Lower back pain. At first a dull throb, and only when she walked. Then when she stood, sat, and finally, even when lying down. Sometimes the pain intensified. Stabbing, sharp, and then it was gone.
Her doctor gave her a muscle relaxer to take care of any injuries that might be causing the backache. Before long, though, Graham had taken so many muscle relaxers that she got an ulcer. She had asked for an MRI, but her doctor felt that she was too young to need one.
She instinctively knew the pain was something more serious.
Six months later, after repeated doctors' visits, requests for more tests and pushing hard for real answers, Graham angrily put her foot down.
Finally, the doctor ordered the MRI.
Days later, her phone rang.
"It turns out that there IS something wrong with you," the doctor said.
Cancer Doesn't Look Like You'd Expect
Trust your intuition. Question everything. Be your own advocate.
This is the advice Graham would give anyone feeling that something's not quite right with their body. Especially with pancreatic cancer, when symptoms can be vague, and the disease may not be top-of-mind for doctors.
"I have always been outspoken, and I think my ability to stand up for myself, even with an authority figure like my doctor, probably saved my life," she said.
Graham especially encourages minorities to be aware of the symptoms and risk factors for pancreatic cancer.
According to the National Cancer Institute, Black Americans are at an increased risk for pancreatic cancer and have the highest incidence rate of all ethnic and racial groups in the United States.
"Back then, I wasn't entirely sure what (or where) a pancreas was, so when I envisioned pancreatic cancer, I primarily conjured images of White people over 60 years old," Graham said. "Of course, that's not the case at all. It doesn't always look like what we think it does."
Graham's diagnosis led to two surgeries (the tail of her pancreas, a large portion of her stomach, her spleen and the tumor were removed in a distal pancreatectomy and partial gastric bypass), a blood transfusion, 25-pound weight loss and to-be-expected emotional turmoil.
She had to leave college and battled depression and low self-esteem.
Today, nearly 13 years later, Graham is reflective as she considers all the ways she has changed for the better since pancreatic cancer. Her path is different than she imagined, but that's OK.
She's done a deep dive into spirituality, philosophy, self-development and emotional well-being.
"Mentally, I feel much older than I actually am," she said. "I've always had an old soul, but after experiencing cancer at 19, my entire life shifted. I skipped the partying phase that most people experience in their early 20s. I grew up fast."
Path to PanCAN
Graham describes life as "a continuous sprint on a constant pivot" – always running but taking many turns, too. She went back to college and earned two degrees, studied in Europe, launched two businesses, and established a career in journalism and PR.
In the meantime, her mom encouraged her to seek a career in the cancer space. On a whim, she signed up for PanCAN's PurpleStride Los Angeles and from there, applied for a job that felt like the perfect fit.
"PanCAN is the best place I've ever worked," Graham said. "The integrity and the level of compassion – people here care deeply about patients and advancing the research field. My goal is to bring more awareness to the disease and to PanCAN's mission – especially to minority groups and Black women, in particular."
She feels strongly about patient self-advocacy, as shaped by her own experience in doctors' offices.
"I treat going to the doctor like a business meeting," she said. "When I suspect something is going on with my body, I keep track of any symptoms I may be experiencing, and I come prepared to lead a discussion. My doctors know they have to be ready for me! I ask a ton of questions and am equipped with information and stats."
You are your own best advocate. The Pancreatic Cancer Action Network strongly recommends you discuss your treatment goals with your healthcare team and know all your options at every stage of the disease.
A similar strategy for doctors' visits was one of the things that cemented her connection with fellow pancreatic cancer survivor Christina Helena, now a friend, whom she met through PanCAN.
They were both diagnosed at 19.
Next Steps
Graham counts songwriting, poetry, reading, fashion, traveling, interior design and art collecting among her passions. She's picked up sketching again. And she is pursuing graduate school and a Master's in psychotherapy as a next step.
"I want to live the full scope of life," she said. "I want to help people as much as I can, and I think PanCAN has contributed to my discovering that about myself. It levels me every day, coming into the office.
"I consider myself very lucky."