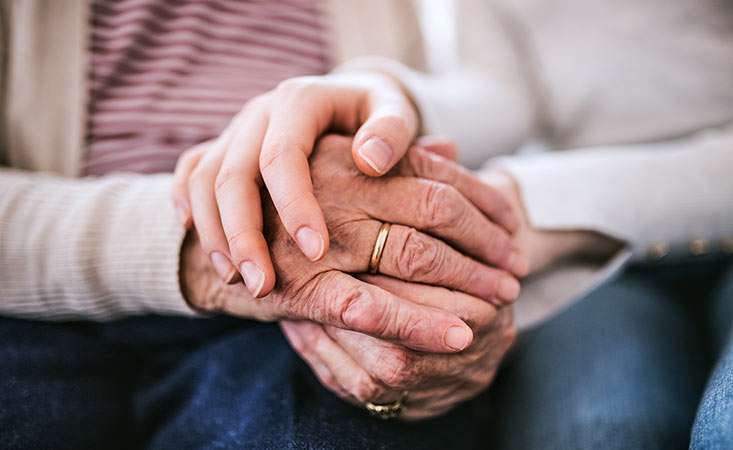 If you have a first-degree relative (parent, child or sibling) who was diagnosed with pancreatic cancer, you may have an increased risk of developing pancreatic cancer.
Previously, it was thought that someone's risk for pancreatic cancer was increased enough to get genetic testing only if two or more family members were affected. But the most recent guidelines from the National Comprehensive Cancer Network (NCCN) indicate knowing your genetic risk is important with only one first-degree relative diagnosed with the disease. This update pertains to pancreatic adenocarcinoma – the most common type of the disease.
What does this mean for you?
Knowledge is power. The Pancreatic Cancer Action Network (PanCAN) breaks down the newest guidelines into three steps to make sure everyone knows their risk and has a plan.


It's important to know your family history of pancreatic and other cancer types. This information can help your doctor and genetic counselor determine whether you should have genetic testing for inherited risk.
It's also important to know whether your loved one with pancreatic cancer has undergone genetic testing for inherited mutations.
PanCAN strongly recommends all pancreatic cancer patients get genetic testing for inherited mutations as soon as possible after diagnosis and biomarker testing of their tumor tissue to help determine the best treatment options. Patients should discuss both tests with their care team. The tests can be available through their treating institution or PanCAN's Know Your Tumor® precision medicine service.
If your family member with pancreatic cancer has gotten genetic testing and didn't have any inherited mutations, it often means you do not need to get genetic testing.


PanCAN recommends you consult with a genetic counselor to determine if you should get genetic testing for inherited cancer risk if:
Your first-degree family member is found to have an inherited mutation
You don't know your family member's genetic test results
Your family member cannot be tested
You have several close relatives with cancer
PanCAN's Patient Services can help you find a genetic counselor and can help you understand the different types of tests that are available.
Patient Services and your genetic counselor can also help determine your eligibility for monitoring for pancreatic cancer over time.


If you're considered at elevated risk for pancreatic cancer, know your options and make a plan to be proactive about your health.
The first step: don't worry! Pancreatic cancer is rare; being at elevated risk does not mean you'll get the disease.
But should the disease develop, it's best to diagnose it in its earliest, most treatable stages.
Here are some ways you can turn the knowledge of being at increased risk into power:
Be aware of your body and pay attention to any changes that may signify the presence of pancreatic cancer (learn more about symptoms to watch out for)
Contact PanCAN's Patient Services or talk to your doctor or genetic counselor about options for monitoring your health, including screening and surveillance programs
Take precautions – like quitting smoking and maintaining a healthy weight and lifestyle – to reduce your risk of developing pancreatic cancer
---
Steve Nelson knew cancer ran in his family – affecting multiple generations. Steve's brother Scott is now a 16-year pancreatic cancer survivor.
The Nelson family got genetic testing, and they found an inherited BRCA2 mutation. Steve and several of his siblings enrolled in a screening program, which ended up detecting a small precancerous abnormality on Steve's pancreas. He had surgery – before it could progress to cancer.
Here's what Steve told us about the experience, "The way I figure it, the knowledge that you may be at risk for cancer is intimidating, whether you take a proactive approach, or you decide that you just don't want to know.
"But being proactive and engaging in early detection efforts, including genetic testing, provides you with a whole team that's there to help you – including the medical community, scientists, historical knowledge, innovative testing methods, genetic counselors, clinical trials and support organizations like PanCAN."
PanCAN's Patient Services is here to help – and be part of your team, too.
Contact Patient Services
to learn more about pancreatic cancer risk, testing and other information and resources about detecting, treating and managing pancreatic cancer.