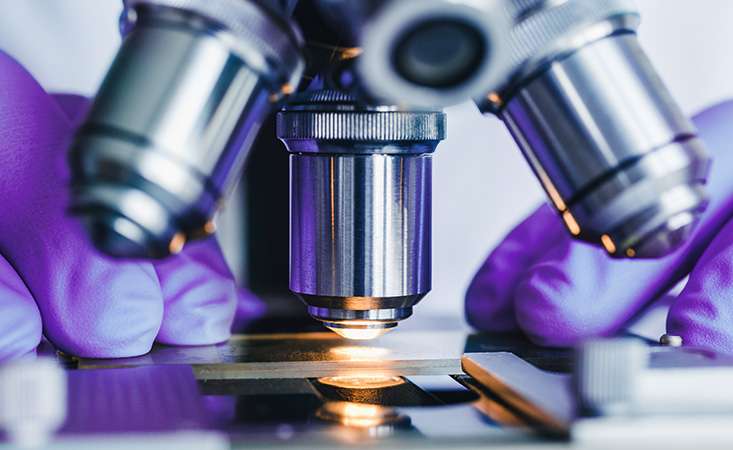 For every dollar you invest in the Pancreatic Cancer Action Network's (PanCAN) Research Grants Program, grantees go on to receive $11.50 in subsequent pancreatic cancer research funding, showing that we're leveraging your investment to greatly expand and accelerate progress against the disease.
This is according to a recent evaluation of our Research Grants Program, completed in June 2021 and covering the program from 2003, the year it began, to 2019.
That figure has increased – up from $11.01 – since the last evaluation in 2017, which covered grants awarded between 2003 and 2015.
"Our ongoing evaluation of our grants program is important to ensure that we are investing the funds of our charitable donors wisely and strategically," said Lynn Matrisian, PhD, MBA, chief science officer at PanCAN. "It shows that we are fulfilling our goal of expanding knowledge about pancreatic cancer and how to diagnose and treat it, and that our grant recipients are staying in the field beyond the terms of their PanCAN-funded research projects, where they continue to secure more funding – and thrive."
In addition, the recent evaluation showed that the PanCAN research grantees you helped fund have authored 2,768 articles in scientific publications during the funding period, with those publications being cited 260,000 times. Publishing research findings in peer-reviewed scientific journals and having research cited in other publications furthers scientific knowledge about pancreatic cancer and shows the scientific impact of the research that your donations support, as researchers everywhere are reading, learning from and building upon our grantees' work.
Our longtime strategy of supporting early-career scientists is especially paying off: Career Development Award recipients are a particularly good investment according to our grants evaluation. Those scientists go on to receive, on average, $31.23 in subsequent pancreatic cancer research funding for every dollar PanCAN donors invest in them. And, pancreatic cancer remains a focus of investigation for the majority (86%) of Career Development Awardees over the years.
Thirteen investigators received PanCAN grants this year. The 2021 research grant recipients include nine early-career scientists whose grants boost their commitment to pancreatic cancer research, two past grantees who received extensions to continue their promising precision medicine projects and two researchers studying early detection strategies and ways to increase diversity and equity in understanding pancreatic cancer genetic risk factors.
One of the 2021 Career Development Award recipients is Rohit Chandwani, MD, PhD, at Weill Cornell Medicine. His grant was funded by The Jim & Shirley Young Family Foundation. Prior to receiving this Career Development Award, he was also the recipient of a PanCAN Pathway to Leadership Grant in 2016, which helped support his transition to becoming an independent investigator. He said, "Without PanCAN donors, I can safely say I would probably not have developed this passion and commitment to pancreatic cancer research and patient care."
Christine Iacobuzio-Donahue, MD, PhD, now at Memorial Sloan Kettering Cancer Center, received a 2007 research grant from PanCAN. She said, "Without PanCAN I wouldn't be where I am now. Thanks to the generous support I received from PanCAN, I was able to succeed in attaining my goals of running a world-class research laboratory that is fully dedicated to finding a cure for pancreatic cancer."
Generous PanCAN supporters invested a record $22 million in research this year. Aside from $3 million in grants, research funding went to support our leading-edge scientific and clinical initiatives, including PanCAN's Precision PromiseSM adaptive clinical trial and our Early Detection Initiative.
To date, PanCAN has awarded 218 research grants to 203 scientists at 75 institutions. The organization's overall research investment is now more than $149 million, making a significant impact on the diagnosis, treatment and care of today's patients and those who will be diagnosed in the future.
We plan to invest another $28 million in research this coming year.
Donate today
to ensure that transformational pancreatic cancer research continues.