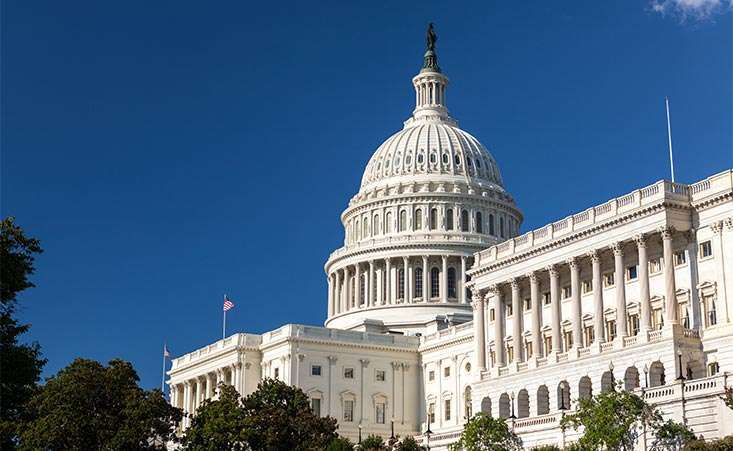 Today, thanks to Pancreatic Cancer Action Network's (PanCAN) tireless advocates, the U.S. House of Representatives passed a Department of Defense (DoD) bill that includes $15 million for the Pancreatic Cancer Research Program – a $9 million increase over last year!
Last year we celebrated a big win when Congress created the first-ever dedicated pancreatic cancer research program for $6 million at the DoD. This year, you – PanCAN's relentless advocates – urged your members of Congress to increase funding to $10 million, and they heard you.
The House not only agreed, but they included an additional $5 million after a special amendment was made in honor of civil rights icon, Rep. John Lewis, who recently passed away from pancreatic cancer.
"We are very thankful to our incredible House champions for making this happen – Anna Eshoo (D-CA), David McKinley (R-WV) and Joe Kennedy (D-MA) for their steadfast support and continued leadership, and André Carson (D-IN) and Eshoo for introducing the amendment in honor of Rep. John Lewis," said Julie Fleshman, JD, MBA, president and CEO of PanCAN.
"We are humbled and grateful that this proposed funding comes as a thoughtful tribute to John Lewis, someone who never backed down from a fight."
When Lewis announced his pancreatic cancer diagnosis in December 2019, he said, "I have been in some kind of fight – for freedom, equality, basic human rights – for nearly my entire life. I have never faced a fight quite like the one I have now."
PanCAN is dedicated to continuing the fight – in honor of Lewis and everyone touched by pancreatic cancer – to improve outcomes for patients today and in the future.
Although passage in the House was an important and exciting first step, the bill still needs to be voted on by the Senate to make these increased research dollars official. The next step is for the Senate to vote on their version of the bill. And, when this happens, probably not until this fall or possibly not until after the election, we will be looking to you to once again contact your Senators – to make sure this funding becomes law and allows potentially lifesaving research to move forward.
"When PanCAN's advocates speak – Congress listens," Fleshman said.
"During PanCAN's virtual Advocacy Week in June, nearly 6,000 constituents, including pancreatic cancer survivors, caregivers and those who have lost loved ones to the disease, participated in more than 100 virtual meetings, made nearly 2,000 calls and sent more than 18,000 emails – reaching every member of Congress."
Those actions, along with PanCAN's ongoing advocacy efforts, built bi-partisan support and convinced the House to vote to increase the allocation to the research program.
"Pancreatic cancer doesn't stop or slow down, so neither can we," Fleshman said.
Pancreatic cancer has the lowest five-year survival rate of any major cancer, at just 10%. It's the third leading cause of cancer-related death in the U.S.
Additional research efforts – like those that will be funded through the DoD Pancreatic Cancer Research Program – will provide better early detection tools and more effective treatment options.
Pancreatic cancer researchers can apply now for this year's $6 million Pancreatic Cancer Research Program at the DoD. Funds will go toward junior and senior scientists aiming to better understand, detect and treat the disease.
It's more important than ever that you continue to donate, participate in PurpleStride and other virtual events and raise your voice to keep pancreatic cancer top of mind in Congress year-round.
Join us today
and become even more involved in the fight against pancreatic cancer.