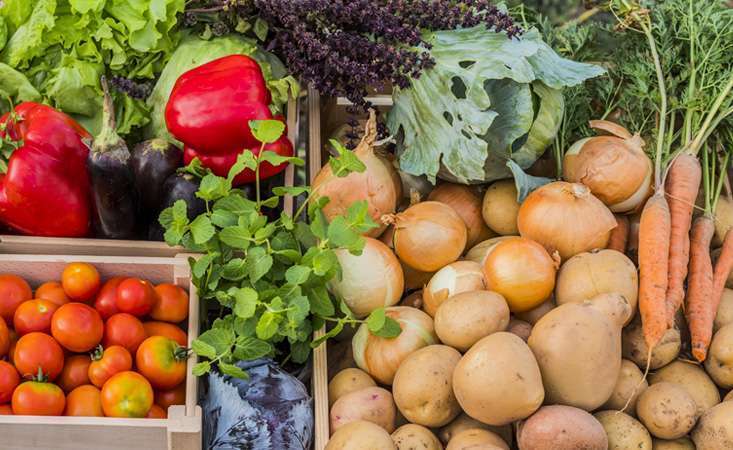 The height of summer is the perfect time to call attention to the significance of shopping for local, farm-fresh produce and the farmers market is a good place to start.
According to the Farmers Market Coalition, farmers markets preserve farmland, stimulate local economies, increase access to nutritious food, support healthy communities and promote sustainability.
Visiting the farmers market, especially in summer, is on many of our shopping to-do lists.
Here are 12 tips for shopping smart at your local farmers market this season and beyond!
1. Be open to trying new things.
The farmers market is a great place to try things you've never seen before (squash blossoms, anyone?) – or to revisit foods you may have written off previously (those peas you didn't love as a finicky kid taste a million times better when they're farm-fresh). Also, vendors will often happily provide samples for you to try before you buy. Make sure, however, not to buy bruised or damaged fruits and vegetables to reduce the risk of food-borne illness.
2. Know what's in season in your area before you go.
You may be able to find sliced watermelon in your local grocery in March, but you probably won't find it at the farmers market until summer. Knowing what's in season can manage your expectations – and save you time.
3. Make a loop, then revisit to purchase.
Depending on the size of your farmers market, it can be good practice to check out all the bounty first (and try samples, of course!) and then to head back around a second time to purchase your top picks.
4. Bring small bills and loose change.
Some vendors accept debit or credit cards, but not always. Paying with cash is usually faster, too.
5. Take your own reusable shopping bags.
Plastic produce bags at the market can be flimsy and not environmentally friendly. Grab your reusable bags before heading out the door, and if you know you'll have lots of loot and/or you're a farmers market regular, consider taking it easy on your shoulders and investing in a wheeled cart.
6. Get to know the farmers.
Many farmers enjoying talking about their farms and their produce. They can also often tell you how they like to prepare and eat the fruits and veggies you're buying from them.
7. Don't assume all produce is organic, and don't discount non-organic foods.
Some vendors will not be certified organic, and that's OK – before you buy, ask them how their produce is grown. Some may still use organic farming practices (actually getting certified can be expensive).
8. Check out the local artisans, in addition to the growers.
Community crafters sometimes set up tables at farmers markets, and their wares can make for excellent – and unique – gifts. While you're at it, grab a bouquet of flowers, which are also usually locally grown and seasonal. Nothing beats a kitchen stocked with your gorgeous market bounty and a pretty vase of fresh flowers on the dinner table.
9. Try not to go when you're hungry.
You wouldn't dare do your weekly grocery run when you're starving (hello, donuts and chips!), so remember to fuel up before hitting the produce stands, too. Otherwise, you may come home with a bushel of beans or a tote of tomatoes that you won't have a chance to eat – or freeze or preserve – before their shelf life ends.
10. Check out the pet policy.
As perfectly behaved as your puppy is, health department regulations in some areas prohibit pets from coming to the market. Check with your farmers market on their policy before setting out.
11. Protect yourself from the heat and sun.
Especially when shopping the farmers market in August, don't leave home without a water bottle, a slathering of sunscreen, lightweight clothing and your favorite floppy hat or visor. After all, you'll be having such a great time sampling and shopping that you may lose track of time. And isn't that what relaxing summer days are all about?
12. Once back home, thoroughly wash and dry your fresh produce and keep meal prep simple.
Seasonal foods at the peak of perfection need little dressing-up to be delicious. Slice the heirloom tomatoes you bought, snip fresh basil over the top, drizzle with extra-virgin olive oil and balsamic vinegar, add a pinch of salt and pepper, and bite into summer.
Contact Patient Services
for comprehensive disease information – including our diet and nutrition booklet, nutrition tips and recipes – and help finding a registered dietitian in your area.