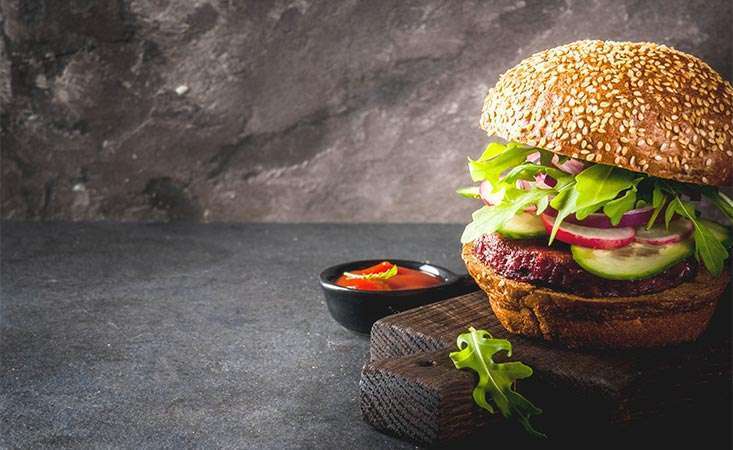 Plant-based burgers (aka veggie burgers) are all over the news these days – and they are likely filling up more of your grocery store's refrigerated or frozen food section, too.
No longer just the burger of choice for vegetarians or an afterthought on the summer barbecue menu, it makes sense that the increasingly popular plant-based burger might just be making the beef burger industry green with envy.
There are more veggie burger options than ever – ranging from a simple portobello mushroom burger to newer meat-substitute brands that cause you to do a double-take before digging in (some are even making their way to the grills of major fast-food chains).
And knowing whether they're healthier than meat burgers – and if so, how much – can be confusing for consumers.
"If you're looking for a healthier alternative to meat burgers, know that some of the plant-based burgers are highly processed with many added ingredients and a lot of sodium, so check both the ingredient list and nutrition labels before purchasing," said Pancreatic Cancer Action Network (PanCAN) Friday Fix contributor Katrina Claghorn, a registered dietitian nutritionist with 25 years of experience in oncology nutrition, specializing in pancreatic cancer and gastrointestinal cancers.
We asked Claghorn for her top tips when it comes to making healthy choices in the "burger" category, particularly for people with pancreatic cancer.
4 Tips for Choosing Plant-based Burgers:
When looking through the ingredient list, notice how many additives, as opposed to foods, are listed.
Use the nutrition labels to compare products, and check for noticeable differences in protein, dietary fiber, total and saturated fat, and sodium.
Note that the amount of fiber in plant-based burgers can be a problem for pancreatic cancer patients with gastrointestinal issues like gas, bloating and loose stools. Legume-based products (soybeans, black beans, lentils) – which are a key ingredient in many veggie burgers – may be harder to digest and can worsen these symptoms.
Compare the grams of fat and saturated fat. Some of the newer burger substitutes have almost as much fat as a traditional beef burger.
But, Claghorn added, the ultimate question is which "burger" tastes best to you and which you will most enjoy eating.
"For patients struggling with a cancer diagnosis and the related gastrointestinal issues, I always encourage them to choose foods that taste good, they enjoy and that won't worsen any GI problems," Claghorn said.
Contact Patient Central
for comprehensive disease information – including our diet and nutrition booklet, nutrition tips and recipes – and help finding a registered dietitian in your area.