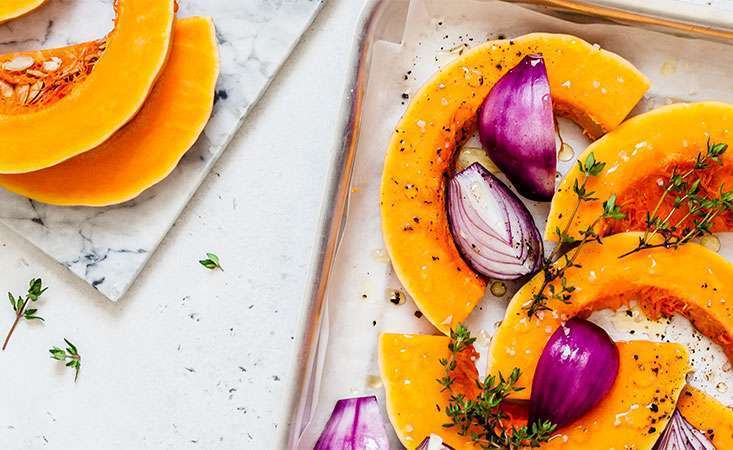 It's time to talk about one of the classic symbols of fall: pumpkins. Much more than just a decoration on front steps or festive dining tables, this popular winter squash offers bountiful health benefits, too.
For starters, pumpkin is chock-full of carotenoids (such as beta-carotene and lutein). Carotenoids give winter squash their yellow and orange colors, and they are also antioxidants, which protect the body's cells from damage.
Pumpkin is a great source of fiber and potassium, too, and it can be incorporated into the diets of pancreatic cancer patients.
Just one caution related to patients, according to Friday Fix contributor Maria Petzel, senior clinical dietitian for the Pancreas Surgery Program at MD Anderson Cancer Center and an emeritus member of the Pancreatic Cancer Action Network (PanCAN) Scientific and Medical Advisory Board – if patients are experiencing diarrhea or get full very quickly, it may be better to hold off on high-fiber foods, like pumpkin, until the symptoms subside.
Looking for inspiration for how to use pumpkin in your cooking?
Petzel shares 5 of her favorite recipes:
1. Roast Pumpkin and Fresh Mozzarella Salad
"I love the vegan pumpkin pie recipe," Petzel said, "because it's a healthier option and contains tofu, which is a great source of protein. Also, soy foods, like tofu, contain genistein."
(Genistein is a phytochemical, which, in animal studies, has shown to be associated with inhibiting the growth of cancer cells.)
Petzel continued, "To make the pie even healthier, swap out the pie crust for one that is whole wheat or made with graham crackers – or even better, skip the crust and cook the pie like a custard.
We realize this recipe actually calls for butternut squash. However, use pumpkin instead of squash and you've got an equally tasty breakfast delight!
Lastly, don't forget to save the seeds from your pumpkin and roast them. Here's a handy how-to from Petzel:
5. Roasted Pumpkin Seeds
Clean the seeds and toss with just enough olive oil to coat them. Season with salt or any herb or spice you like. Spread the seeds on a sheet pan in a single layer and bake in your preheated oven at 300 degrees until the seeds are golden brown – about 20 minutes.
Contact PanCAN's Patient Central
for comprehensive disease information – including our diet and nutrition booklet, nutrition tips and recipes – and help finding a registered dietitian in your area.