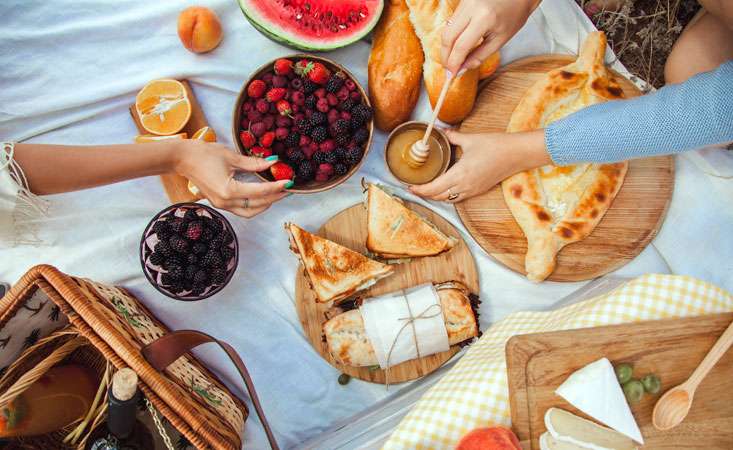 It's picnic season! Time to break out blankets, ice chests and your favorite snacks — and find that perfect spot at the beach, near a lake, in a park or even in your own backyard.
Picnics offer the chance to leave the house and enjoy the great outdoors. And for cancer patients, picnics can be especially therapeutic, boosting mood and even increasing appetite. According to Maria Petzel, senior clinical dietitian for the Pancreas Surgery Program at MD Anderson Cancer Center, there are several benefits to having picnics. She offers helpful tips to remember before spreading out that blanket and enjoying food, friends and fun.
"Picnics offer a more relaxed environment for eating," Petzel explains. "For patients who are struggling with poor appetite, eating in a more relaxed environment and being 'distracted' by nature may lead to increased food intake. Also, some sun exposure can help enhance vitamin D and serotonin production, which may elevate mood."
Petzel also offers food safety tips to keep in mind — especially for cancer patients.
"Food safety is important, especially for those who may have a decreased immune system on active chemotherapy. Use ice packs to keep cold food cold and avoid leaving food out in the sun for more than 1 hour (especially if more than 90 degrees) or in the shade for more than two hours (if less than 90 degrees)."
She also suggests washing all fruits and vegetables before packing, and keeping raw meats/poultry/fish separate from foods that will be eaten raw.
Another important tip? Limit the consumption of foods that are ready-to-eat. Petzel says, "It's better to prepare things like potato salad and sandwiches and cut fruit or vegetables yourself rather than purchase these premade items."
Here are a few good picnic snacks recommended by Petzel:
Peanut butter and crackers/apples/celery
Trail mix: nuts, dark chocolate chips, dried fruit (fruit dried without added sugar)
Hummus: (individual serving containers) and pita chips or vegetables
Hard cheese (such as cheddar or Colby-jack) and crackers/pretzels/fruit/veggies
Fresh fruit and a yogurt-based dip