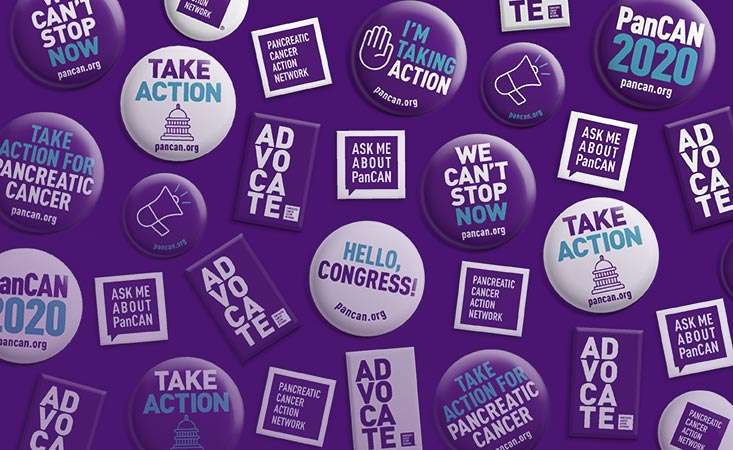 Monday, June 15
Join us for our live, free Advocacy Week Kick-off Event featuring special guests!
Hear from advocates and special guests, including Senator Sheldon Whitehouse (D-RI) and cancer researcher Anirban Maitra, MBBS, about why your participation is so important and why there is an urgent need for federal funding for pancreatic cancer research.
PanCAN's President and CEO Julie Fleshman will tell you more about PanCAN and share the impact that your advocacy actions have made. You can also ask questions during this live, free one-hour Kick-off Event.
This year, more than 57,000 people will be diagnosed with pancreatic cancer in the United States. That's why the Pancreatic Cancer Action Network (PanCAN) and our community of advocates take action year-round to push for progress and accelerate research for this deadly disease.
We won't stop until we stop pancreatic cancer!
For the first time, PanCAN is hosting virtual Advocacy Week, bringing together thousands of people – just like you – from across the country to make our voices heard. Let's deliver a strong message to Capitol Hill: Patients cannot wait. More must be done to increase the federal investment in the disease.
It's easier than you think to make a difference. Join us June 15-19, 2020.
Don't miss out on this powerful, impactful and fun-filled week! Here's what you can expect: 
Monday, June 15
Kickoff with PanCAN President and CEO Julie Fleshman, JD, MBA, and special guests – Register
Tuesday, June 16
Call your members of Congress
Wednesday, June 17
Send a message to Congress
Thursday, June 18
Tweet your member of Congress
Friday, June 19
Wrap up and THANK YOU for making a difference
Since approximately 80% of all pancreatic cancer research funding comes from the federal government, PanCAN's efforts are focused on securing increased federal funding for research.
Big advocacy wins for pancreatic cancer ONLY happen with your voice, your commitment and your action.
Just last year thanks to our advocates, the first-ever Pancreatic Cancer Research Program at the Department of Defense was created by Congress.
This year, we are unable to be physically together due to the pandemic. But that is not stopping us.
We will be uniting – from home – in a national Advocacy Week effort. From June 15-19, thousands of advocates will be reaching out to Congress through phone calls, emails and social media – sharing our stories with the goal of increasing federal funding for research.