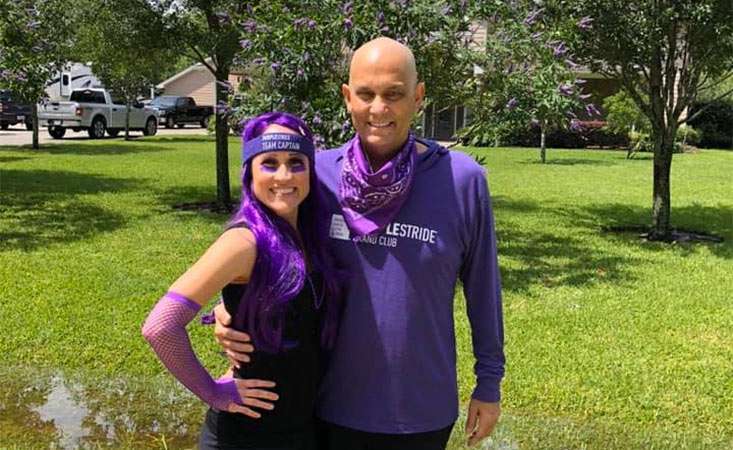 Editor's note: Sadly, Frank Land passed away in November 2020. We hope his story will continue to provide hope and support to others fighting the disease. 
Frank Land and his wife of 13 years, Kelly, are both nurses. So when Frank's back pain led to a stage IV pancreatic cancer diagnosis in April 2019, they knew the challenges they were likely to face.
On top of that, they were overwhelmed by the multiple treatment options and the urgent need to make decisions.
They turned to the Pancreatic Cancer Action Network (PanCAN) – and found the information and support they were looking for.
The information on the PanCAN website and through PanCAN's Patient Services helped guide their early decisions. Since then, they have also used Patient Services to find clinical trial options.
They have also found community through PanCAN's PurpleStride and PanCAN's Houston Affiliate of volunteers.
In May 2019, just a month after Frank's diagnosis, the couple attended PurpleStride Houston.
"There we met many survivors who shared their stories that filled us with hope for our journey," Kelly said. "We also met many family members whose loved ones had lost the battle with this devastating disease, and they shared their stories of the love and courage they have found through the PanCAN community.
"Over this past whirlwind of a year, we have developed a new family through PanCAN and PurpleStride. They provided support and encouragement and made us feel like we were not alone in the fight."
Sign up for a PurpleStride near you to join Frank and Kelly in bringing awareness and funds to the disease.
For Frank, this year's PurpleStride Houston came with several complications due to the coronavirus pandemic (the event was also virtual this year).
Frank had been in the hospital for several days leading up to the event. He had coronavirus-like symptoms – fever, cough, body aches, headaches – but did not test positive for the disease. While they awaited three negative tests to confirm he did not have it, he was treated as if he did. He was admitted to the coronavirus unit and during that time could not get the bronchoscopy he needed.
Despite getting out of the hospital just the night before PurpleStride Houston, Frank joined Kelly in activities on event day.
They got dressed in their craziest purple outfits, shared a video talking about their story and walked around their neighborhood.
Their team, #TeamTiger, raised over $9,000 and was the event's top fundraising team.
"Through PanCAN, we can contribute to finding a cure through raising awareness and funds for pancreatic cancer research and patient and family support," Frank said.
Because of the coronavirus pandemic, Frank must go to his treatments alone now. "It is difficult when you are feeling fatigued and nauseated and hurting and your family is not by your side," Frank said.
It's hard on Kelly, too. She said, "I feel helpless not being able to accompany Frank to his treatments. I want to provide support to him, be there for encouragement and be there to help him when he is feeling bad from the side effects of the chemotherapy."
She was grateful she could at least talk with Frank on Zoom and FaceTime while he was in the hospital.
The restrictions posed outside of the hospital have also been difficult, Frank said. "I am not able to go to church and worship, not able to be a part of the community and not able to go out to eat with my friends and family when I feel up to it."
A vacation they had very much looked forward to was also cancelled.
Beyond challenges posed by the pandemic, their pancreatic cancer journey has been filled with ups and downs.
"It is a very emotional journey with highs and lows, good days and bad," Frank said. "From the beginning, the journey is constantly changing."
Kelly echoed this but added, "I couldn't have managed it without the amazing support that we received from our family, friends and the Pancreatic Cancer Action Network."
Kelly wants others whose loved ones are diagnosed with this disease to know, "You are not alone!"
She encourages contacting PanCAN to find events, to connect with others who have faced this disease and to learn about the disease and available clinical trials.
"PanCAN is there to answer your questions and provide valuable resources. Please use them!"