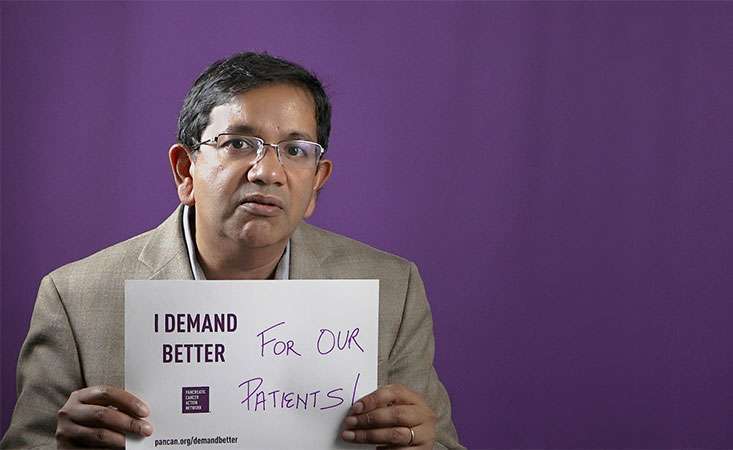 Editor's note: Anirban Maitra, MBBS, is Scientific Director of the Sheikh Ahmed Bin Zayed Al Nahyan Center for Pancreatic Research at MD Anderson Cancer Center in Houston. He is a current member and former chair of the Scientific and Medical Advisory Board for the Pancreatic Cancer Action Network (PanCAN) and is the recipient of PanCAN scientific research grants.
Tell us why you wanted to study pancreatic cancer.
Pancreatic cancer was and still is a disease that needs to see major advances in research. I felt like I could make the most difference studying pancreatic cancer, and that – combined with my passion for helping patients – made it the obvious career choice for me.
Also, PanCAN has been very instrumental in my career. My first research grant was a Career Development Award from PanCAN in 2004. I've remained very involved with the organization ever since.
What is special to you about the pancreatic cancer research community?
The fact that it is very tightknit. We collaborate and share resources and data. We also have wonderful opportunities to come together and discuss what progress we are making against this disease.
PanCAN is the glue that brings together researchers from around the country to work together, and I attribute the growth of the research community in large part to PanCAN. Our collaborations remain many years after our research grant funding has come and gone.
On the topic of funding, talk about the need for more research dollars for the disease.

It is exceedingly important to fund pancreatic cancer research because even today, federal funding for it lags far behind funding for other cancer killers. Also, the National Cancer Institute can only go so far as it relates to funding major initiatives to advance the fight against pancreatic cancer.
When I got my first PanCAN research grant in 2004, very few organizations were engaged in pancreatic cancer research and advocacy, and many young investigators were getting drawn to other cancer types because more resources were available. But over the last decade, a whole new generation of young researchers has come into the field, and we need to ensure that continues.
Initiatives like PanCAN's Precision PromiseSM require concerted funding. Donors should know that the money they invest in PanCAN is being well spent.
What is your hope for the future of pancreatic cancer?
I am very hopeful that future generations of patients will have much better treatments available to them and that more people will be diagnosed at an earlier stage so they can have longer term survival. That's our end-goal as researchers – to ensure pancreatic cancer patients live a long and fulfilling life.
And we are willing to do whatever it takes to ensure that happens.
What message do you have for survivors and caregivers today, as a leading pancreatic cancer researcher?
My message is to stay hopeful. There is a lot going on in research and there are many of us working really hard to be sure we beat back this terrible disease.
What inspires you the most about the work you do?
The patients and their stories. At MD Anderson Cancer Center, we interact with patients all the time – you can't get to your laboratory without going through the hospital.
Hearing their stories gives you a unique perspective you simply can't get from working in the laboratory alone. You also learn from patients, and that can impact the work you do in your lab.
Talk about the importance of more awareness for this disease.
Pancreatic cancer remains a disease that has modest awareness outside of the large academic centers. Unfortunately, in the primary care community, signs and symptoms are often missed because physicians are not thinking of pancreatic cancer.
For example, we now know that new-onset diabetes is a sign of pancreatic cancer in some patients, but many times physicians will not think of pancreatic cancer when they have a patient with diabetes.
Another aspect of awareness is to be aware of what is going on in research – unless patients and caregivers are aware advances are being made, they will feel like they don't have any options left.
And that is absolutely not true.