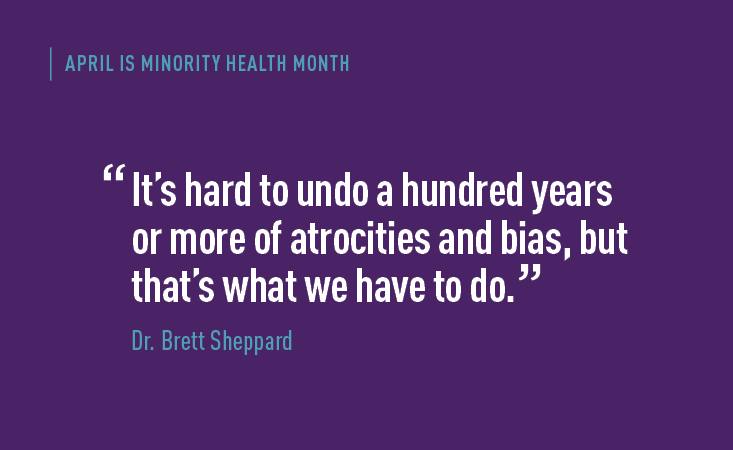 Dr. Brett Sheppard wants to improve pancreatic cancer outcomes for Native Americans and Alaska Natives (NA/ANs). This community has the worst pancreatic cancer survival rate of any major racial or ethnic group, a statistic driven by a variety of factors stemming from systemic oppression and racism. These include poor access to high-quality healthcare, distrust of the medical system and lack of research focused on this population.
A paper published in Cancer in April of 2022 sent a call to action to healthcare leaders: Engage with NA/AN communities to improve the survival rate and the quality of life of NA/AN patients living with pancreatic cancer. Dr. Sheppard and his co-authors reviewed published data on pancreatic cancer in NA/AN populations with a focus on "disparities in incidence, outcomes and research efforts."
They found several critical areas that should be addressed. First, NA/ANs need to feel safe seeking care. Citing historical trauma – including the Indian Removal Act that forced NA/AN people off their land, assimilation boarding schools that removed children from their homes and the forced sterilization of NA/AN women – the authors state that this history is "likely responsible for the significant mistrust of the U.S. healthcare system, and cancer care in particular, among NA/ANs."
"It will be hard to improve outcomes without first repairing relationships with NA/AN communities," said Dr. Sheppard, a PanCAN grantee and professor of surgery and William E. Colson Chair of Pancreatic Disease Research at Oregon Health and Science University (OHSU).
"We are just beginning to explore how we can develop ties and begin this process," he said. "It's hard to undo a hundred years or more of atrocities and bias, but that's what we have to do."
A second challenge that the research team uncovered is that NA/AN patients are underrepresented in large cohort studies that have helped to identify associations between pancreatic cancer and diabetes, obesity and commercial tobacco use. Overall, research focused specifically on NA/AN populations and pancreatic cancer lags behind other diseases. For example, research has shown that NA/AN patients are more likely to present at a later stage of disease for breast, lung, colon and prostate cancer but there's little data for pancreatic cancer. It's also unclear how many NA/AN patients seek surgical treatment at high-volume centers – which is known to improve pancreatic cancer outcomes – and what can be done to boost those numbers.
Ramping up research efforts – alongside tribal leaders – would help to pinpoint specific actions to address disparities. Dr. Sheppard is spearheading an article for the American College of Surgeons on culturally competent surgical care for NA/AN populations, with more collaborations in the works. He's working with Claymore C. Kills First, clinical oncology pharmacist at OHSU and first author on the Cancer paper, as well as Dr. Jackie Shannon, also co-author on the paper and associate director of outreach and engagement at the Knight Cancer Institute, on several grants focused on improving NA/AN outcomes.
"As we begin to do research, tribal stakeholders and the coalitions of tribes need to be able to have the data," he said. "Our efforts have to be inclusive of the community, a shared model."
PanCAN's Precision Promise
SM
adaptive clinical trial recently expanded to five additional locations. These sites not only have strong pancreatic cancer programs but are also in geographic regions that serve a diverse population, including NA/AN populations– helping us expand access to underserved communities.
See the sites
.
Since NA/AN communities have a much higher rate of diabetes compared to other racial and ethnic groups, Dr. Sheppard and the research team see a need to educate people about diabetes and raise awareness of pancreatic cancer symptoms. Longstanding diabetes can be a risk factor for pancreatic cancer, whereas a recent diabetes diagnosis can sometimes be a symptom of pancreatic cancer.
"One of the first things that the Native American population needs is better fundamental healthcare with diabetes control," he said. "That leads us into an opportunity to talk about the early warning signs of pancreatic cancer and lifestyle changes that people can make to help mitigate their risk."
Eventually, the goal is to begin to enroll people from NA/AN communities in early detection studies, helping to remedy decades of underrepresentation in research.
This outreach goes hand-in-hand with an increase in funding for medical centers and clinics serving NA/AN populations. Staff members need to have the time to educate and enroll patients in studies.
"Native American healthcare centers are not only underfunded, they're understaffed," Dr. Sheppard said. "They're working hard just to stay in place. We need help from state and federal governments."
Despite the challenges ahead, Dr. Sheppard remains optimistic in part because of successful cooperative efforts with the Navajo nation to address the COVID-19 pandemic. After being hit hard by an initial wave of infections, tribal and non-tribal leaders together created a campaign to encourage testing, public health prevention measures and vaccination once the option was available. This led to a steep decline in cases such that the Navajo Nation reported zero new cases or deaths by March 2021.
Dr. Sheppard and co-authors said the hope is that the same strategies and infrastructure used to address the COVID-19 pandemic can be replicated for future efforts to address the significant disparities that exist in NA/AN populations for pancreatic cancer care and research.
Contact
PanCAN Patient Services
to learn more about treatment options for pancreatic cancer patients, including a personalized clinical trials search.