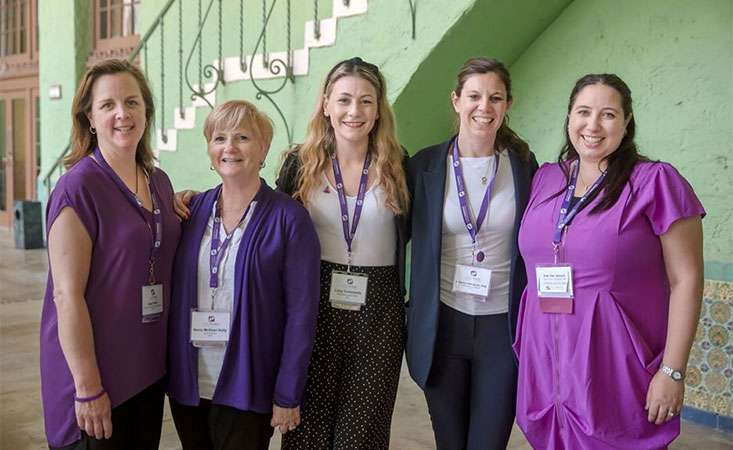 Editor's note: On International Women's Day, we highlight a few of the many talented women who are heading up critical awareness and fundraising initiatives in their countries to fight pancreatic cancer. They are all part of the World Pancreatic Cancer Coalition (WPCC).
Julie Fleshman, JD, MBA, is chair of the WPCC Steering Committee and president and CEO of the Pancreatic Cancer Action Network (PanCAN), based in the United States.
Because PanCAN is a founding member of the WPCC, Fleshman is among the many female leaders working together to create global change for pancreatic cancer.
"The World Pancreatic Cancer Coalition is an incredible opportunity to work together with other organizations across the globe and unite in our fight to end pancreatic cancer. Collectively, our voices are stronger, allowing us to make greater strides toward changing outcomes for pancreatic cancer patients."
She added: "The purpose of the Coalition is to raise global awareness about the disease, but just as importantly, it's about strengthening the capacity of each of our individual efforts in order to make a powerful global impact. By working together, we will accelerate progress."
We asked several other women leaders in the WPCC – Diana Jupp, chief executive at Pancreatic Cancer UK; Jessica Abelsohn, co-founder of #PurpleOurWorld in Australia; and Federica Valsecchi with Fondazione Nadia Valsecchi in Italy – to talk about their work.
Here's what they said:
PanCAN: What are you most proud of regarding your work for the pancreatic cancer cause? 
Jupp: Over the last two years, we have really raised our voice and our demands to transform care and treatment for pancreatic cancer in the U.K. We will not take "no," or inaction, for an answer.
This has brought many more people into our cause, and we are beginning to have conversations with the right people, the decision makers, to talk about how change can be achieved for patients and their loved ones. I am proud of this and the determination that the whole U.K. pancreatic cancer community has to make a difference, fast.
Abelsohn: At #PurpleOurWorld and on a personal level, I believe our role is to speak for those who have been silenced by pancreatic cancer. For me, that means my mum and all the other loved ones we've lost. It's what I'm most proud of.
I've spoken to many people who simply cannot share their story or talk about their loss, because they're so traumatized, so that's where we feel we can step in to be their voice.
Of course, I'm also proud of being an inaugural member of the World Pancreatic Cancer Coalition and a founding member of the Australian Pancreatic Cancer Alliance, along with lighting up the Sydney Opera House. But there's something very special about the families we are privileged to represent.
#PurpleOurWorld is a family-run initiative. It's five family members literally sitting around a kitchen table. What we've achieved since we started in October 2014 amazes me every day.
Valsecchi: I'm proud of supporting research in a country like Italy that does not invest in basic and clinical research and in education/formation of young scientists. I'm proud of creating awareness of pancreatic cancer by educating the population about symptoms, risk factors, new scientific discoveries, genetics, treatments, center of references, etc.
PanCAN: How does it feel to have the support of the Coalition – and especially other strong women members/leaders surrounding you?
Jupp: The Coalition is a fabulous union of pancreatic cancer advocacy groups from around the world, sharing, learning, championing each other and our work. It is so inspiring to be part of an international movement, led and supported by so many incredible women leaders and members, it is truly empowering. But you know what they say – behind every great woman … So we also have many fantastic men, who are equally as inspirational and are at the heart of the Coalition as well!
Abelsohn: What I find incredible about the WPCC is that no matter how big or small your organization is, you have a voice. We're all on equal footing.
I feel nothing proves this more than the fact that the WPCC Steering Committee is chaired by the wonderful Julie Fleshman, CEO of PanCAN, and the World Pancreatic Cancer Day Committee is chaired by myself -- coming from a small social media initiative run in Australia.
What I will say however, is that no one woman can do things herself. We're making huge strides because of the other incredible women who share our vision. We cannot tackle this global problem on our own.
With the other women and organizations who make up the WPCC, I truly believe we can make a difference. My dad says it often – women make change. It's what drives other movements such as the breast cancer campaigns, and it's what will continue to drive the pancreatic cancer movement.
Valsecchi: In my country, the major pancreatic cancer organizations are led by women. The "Italian PC revolution" started just a few years ago by the action of women indirectly affected by the disease, with the goal of helping other families facing pancreatic cancer.
Thanks to the Coalition, I met very inspirational women, strong examples for me to continue my battle, and reliable resources in case I need any practical help to continue my activities.
PanCAN: What is your hope for the future of Coalition (meaning the strides that are taken and what you hope they lead to)?
Jupp: I hope that the Coalition continues to grow, reaching more members and inspiring more action and greater awareness. I most keenly hope that our combined and united voice will be listened to, and we will indeed make the research breakthroughs desperately needed so that people affected by pancreatic cancer will have earlier diagnosis. We want multiple treatment options that will transform survival and quality of life for everyone in all countries.
Abelsohn: As Julie (Fleshman) said when opening last year's WPCC meeting in Miami, "No one is going to get the job done alone. It's only if we work together that we will accelerate progress … that's what the Coalition is all about." Never has a truer word been spoken.
Progress is happening, and it's amazing to see it all unfold. The WPCC is about awareness. We need to continue to ensure the public, the medical professionals and the governments understand the statistics, the symptoms and what needs to be done to accelerate progress.
Collectively, we have an enormous voice and enormous power. Going forward, I know that this power will be leveraged to make a difference, especially when it comes to research and education.
Valsecchi: I hope that through the Coalition, all the pancreatic cancer patients around the world will have the same possibilities in term of treatment options, clinical trials, genetic testing and proper assistance.  Also, I hope that the Coalition will enhance advocacy to obtain more funding for research and patient care.  
Donate today
to ensure PanCAN can continue to provide free information, resources and services to pancreatic cancer patients.