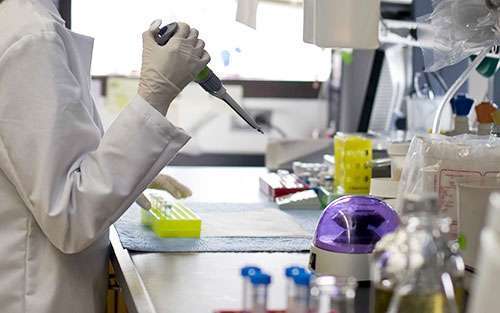 Every pancreatic tumor is different. The Pancreatic Cancer Action Network (PanCAN) strongly recommends molecular profiling of your tumor to help determine the best treatment options.
Molecular profiling can reveal unique biological features of a tumor that can be "actionable," meaning that they can inform which treatment may be best for that patient.
Results published today in Cancer Discovery report findings from 71 patients who underwent molecularly profiling and were treated at Dana-Farber Cancer Institute in Boston. The research team found that 21 of the 71 patients, or 30 percent, had an actionable molecular alteration that impacted their treatment decisions.
The two lead authors of the Cancer Discovery paper are Andrew Aguirre, MD, PhD, and Brian Wolpin, MD, MPH. Aguirre is a past PanCAN grantee, receiving a Fellowship Award in 2013, and was one of the lead authors on a nationwide effort to discover the genetic changes that define different subtypes of pancreatic cancer. Wolpin is co-principal investigator of a $2 million Research Acceleration Network-2 grant from PanCAN.
"It's great to see Drs. Aguirre and Wolpin and their teams collecting and publishing molecular profiling information for pancreatic cancer patients," said Lynn Matrisian, PhD, MBA, chief science officer at PanCAN. "It's not yet standard practice for pancreatic cancer patients to have their tumors analyzed in this way, but we are also working to increase awareness and access through PanCAN's Know Your Tumor® precision medicine service."
One of the alterations, seen in about 20 percent of patients, was changes to a family of proteins that impact cells' ability to repair damage to DNA. Included in this category is the BRCA family of genes. Importantly, BRCA mutations can be inherited, so it's important to know your family history and speak to a genetic counselor if you are at risk. In addition, tumors with BRCA or BRCA-like alterations may be particularly responsive to a category of drugs called PARP inhibitors, so this is a powerful example of an actionable alteration.
"The more we learn about the molecular changes that cause pancreatic tumors to develop and progress, the more we can use that information to select treatment options that align with a patient's tumor's characteristics – and design new drugs to target the cancer cells' weaknesses," Matrisian said.
She added, "Through Know Your Tumor and institutional access to molecular profiling, we are realizing the potential of this type of information to aid in clinical decision-making and ultimately to improve patient outcomes."
If you have questions about this study, molecular profiling or the diagnosis and treatment of pancreatic cancer,
contact Patient Central
.