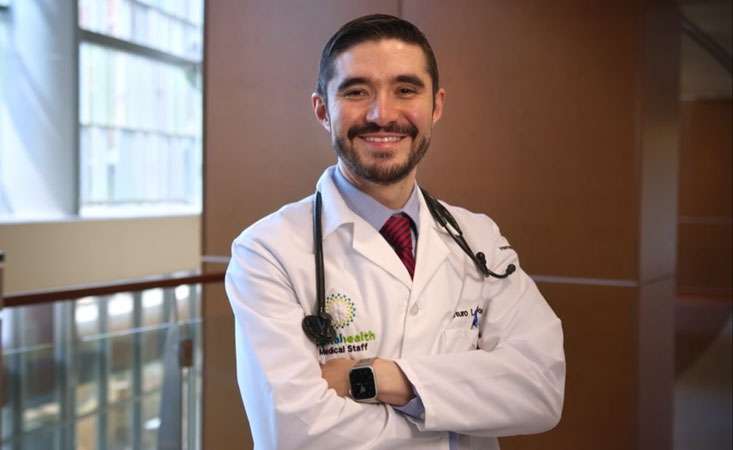 For patients with pancreatic cancer, clinical trials are a critical treatment option. Yet few Hispanic Americans enroll. While Hispanic Americans are the second largest racial/ethnic group in the country, they only account for about three percent of patients in clinical trials. This has led to gaps in understanding the best treatment options for different populations, which can worsen disparities.
Arturo Loaiza-Bonilla, MD, wants to change this reality. A hematology/oncology specialist and medical director of oncology research at Capital Health in Philadelphia, he not only treats patients in Pennsylvania and New Jersey and conducts research, he is on a mission to educate all patients, but especially those in the Hispanic community, about clinical trials.
The first step, he said, is awareness.
"Pancreas cancer is such a unique situation," he said. "This is one of those where you always have to think about clinical trials from the beginning."
Patients with pancreatic cancer who receive treatment through clinical trials often have better outcomes than those who don't. Yet often, many patients from the Hispanic community and other underrepresented groups don't get basic information about clinical trials – studies have shown that unconscious bias in the medical community may result in fewer conversations about the treatment option. And if they do receive information, it can be a challenge to navigate the clinical trials landscape.
Dr. Loaiza-Bonilla refers patients to PanCAN Patient Services and Clinical Trial Finder to help fill this information gap. With the largest database of pancreatic cancer clinical trials in the United States, PanCAN Patient Services Case Managers are well-equipped to help patients understand their options.
This support is critical, he said, when the healthcare system doesn't necessarily allow physicians the time to talk through clinical trials in detail.
"As oncologists, we love to take care of and help our patients, but we also are limited by the information around us," he said. "We only know the studies that are open in our own institutions or if we don't run clinical trials, we rely on sending the patient for a second opinion elsewhere or searching clinical trials ourselves, and that is not ideal."
In addition to organizations like PanCAN, making information accessible in Spanish is important to reach a broader and more diverse community, said Dr. Loaiza-Bonilla. This supports not only patients, but family members who are often essential members of the care team. For him, personalized medicine means making sure all patients have what they need to make decisions right for them – from biomarker and genetic testing to information about clinical trials to a support structure at home.
"The caregivers are going to be with the patient, driving them to appointments, being there with them when they need it," he said. "So having that holistic approach, from the social determinants of health all the way to the biology, is key for personalized medicine."
All of these efforts invite members of the Hispanic community into the health system, said Dr. Loaiza-Bonilla. This is important as healthcare professionals have a responsibility to rebuild trust with communities who have experienced discrimination or marginalization in the past.
A diverse healthcare workforce is one important strategy, he said. Recruiting and supporting physicians and researchers from underrepresented backgrounds, so that the workforce reflects the broader population, can help to bridge the divide and bring patients through the door who otherwise may not engage.
"If you see someone who looks like you, understands you and knows your needs – from any perspective, it doesn't have to be just ethnicity, but anything else like you are from the same neighborhood – they understand the health system where you are," he said. "They have been patients themselves there. All of that is helping to improve trust in clinical trials."
A native of Colombia, Dr. Loaiza-Bonilla takes inspiration from his own family when it comes to this work.
"My grandfather was an important example for my life," he said. "He had nine kids. He was in the military. He was a very strong man, but he was afraid of doctors and I could never understand what was going on."
His grandfather was diagnosed with gout – something relatively easy to treat – but instead he medicated with NSAIDs and wound up damaging his kidneys. This story affected Dr. Loaiza-Bonilla deeply – he didn't want to see others suffer unnecessarily.
Two weeks before his grandfather died, Dr. Loaiza-Bonilla learned he had been admitted to medical school – an accomplishment that made his grandfather very proud. After graduating from Universidad Nacional de Colombia, Dr. Loaiza-Bonilla taught himself English and came to the United States for residency training. He found his way to a lab where they were studying the epigenetics of leukemia, another cause close to this heart as his brother had been diagnosed with the disease. While completing a fellowship in hematology and oncology at the University of Miami, he went back and forth to Columbia to help his brother and his family.
He also learned about the needs of underrepresented groups in the United States.
"I got exposed to the Hispanic community in Miami, serving in a community charity clinic with a lot of patients with solid tumors including pancreas cancer," he said.
This led to his passion for education, as well as his entrepreneurial drive. He is co-founder and chief medical officer for Massive Bio, a company dedicated to making clinical trials available to patients around the globe using telehealth, genomics and artificial intelligence. He also serves on the American Society of Clinical Oncology Governing Relations Committee and works with CancerX, a federal public/private partnership announced in February 2023, to promote a major change to improve access to studies and better treatment options for all cancer patients.
As Dr. Loaiza-Bonilla continues to outreach and connect with patients, he wants to gather the resources we need to make clinical trials more accessible to all.
"It's data organization and management and folks connecting with each other – institutions, research sites, patient advocacy groups and patients themselves working together," he said.