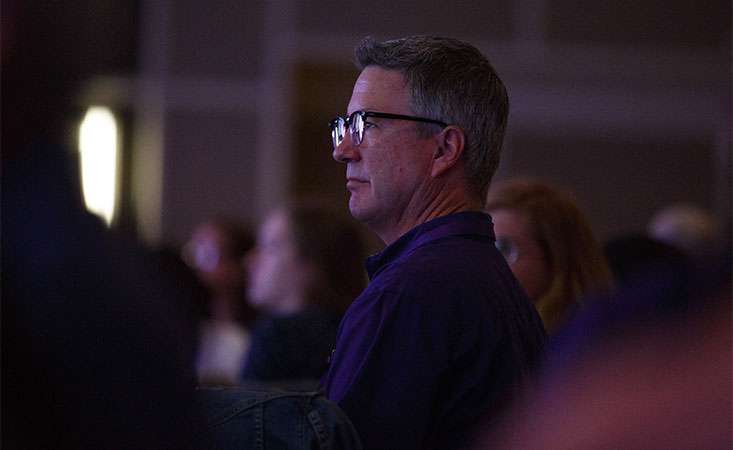 Editor's note: We are very sad to share that Dr. Andy Hospodor also died of pancreatic cancer on June 19, 2021. We are grateful for Andy's research and advocacy efforts and will continue our fight against this disease in his and his partner's memory.
After his partner's surgery to remove an ovarian cyst, Andy Hospodor, PhD, of Santa Cruz, Calif., expected her pain to subside. "Instead, a few months later, she was still in a great deal of pain," he recalled.
The doctors insisted she was still recovering from the procedure, but Andy and his partner, then 51, sensed something else was wrong.
"She underwent a PET scan – shoulder to thigh – to figure out what was causing the pain," Andy said. "We were in complete shock when the scan showed spots on her pancreas and liver."
The diagnosis: Stage IV pancreatic cancer.
"Her oncologist wanted to send her directly to hospice; he told her to wrap up her life. But we weren't satisfied with that approach," Andy said.
Instead, his partner started a round of FOLFIRINOX chemotherapy, which she struggled to tolerate.
Andy was no stranger to supporting loved ones fighting cancer. "Both my parents had cancer, and my mom was actually diagnosed with three independent cancers in her body."
He continued, "Based on my professional and personal research, I knew cannabinoids could help my mom tolerate and endure heavy chemotherapy.
"She said it helped her eat and sleep."
Armed with this knowledge and experience, Andy sought strategies to make his partner more comfortable and better able to handle chemotherapy.
"Her oncologist agreed to switch her to a gentler chemotherapy regimen, gemcitabine, and include cannabinoids in her care," Andy said.
Cannabinoids are substances found in cannabis plants that have been reported to alleviate the symptoms and side effects caused by cancer and cancer treatments. Some, but not all, cannabinoids are psychoactive and affect the brain. For medicinal use, marijuana is available in certain states throughout the United States, whereas other sources of cannabinoids, like those derived from hemp, are more widely available.
Some cannabinoid medicines have recently been approved by the U.S. Food & Drug Administration (FDA) to treat certain cancer-related side effects, but many are not. Patients should always consult with their healthcare team when considering integrative, complementary or alternative medicine (ICAM).
Seeing healthcare professionals who focus on symptom management and supportive (palliative) care improves outcomes and is critical for quality of life. The Pancreatic Cancer Action Network (PanCAN) strongly recommends that symptom management and supportive (palliative) care be provided early in a patient's diagnosis as well as during and after treatment. Speak to your healthcare team candidly about all supportive care options.
After revising the treatment plan, Andy's partner lived six more months – giving them one more Christmas, New Year's Eve, Valentine's Day and Easter together.
"I was grateful for those extra moments with her, especially since she was feeling relatively well during that time," Andy said, "while also incredibly sad we couldn't offer her more options or more time."
One of the ways Andy has channeled his grief and frustration following his partner's death is by attending PanCAN's National Pancreatic Cancer Advocacy Day the past five years.
"When I attended my first Advocacy Day, people greeted me with open arms," Andy remembered. "These were people who knew exactly what my partner and I had been through."
Andy is also a big supporter of PanCAN's Patient Registry. "Gathering data through the registry allows the field to learn from each and every patient – and can shed light on some 'out of the box' strategies to combat the disease."
He continued, "What we need are more effective treatment strategies to let patients live longer – to make pancreatic cancer a chronic disease."
Contact Patient Services
to learn more about diagnosis, treatment and supportive care approaches for patients with pancreatic cancer.
Any treatments, including clinical trials, mentioned in this story may not be appropriate or available for all patients. Doctors take many things into account when prescribing treatments including the stage and type of cancer and the overall health of the patient. Contact PanCAN Patient Services for personalized treatment options.