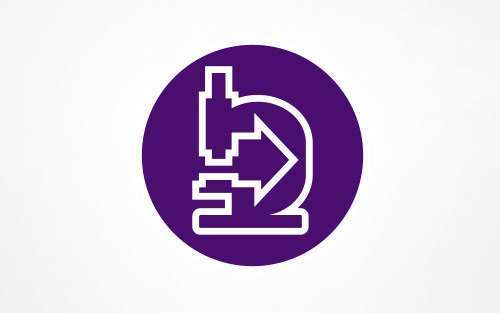 We are thrilled to announce the launch of our 2017 Research Grants Program. This year marks a major milestone for our organization: For the first time in our history, we're offering early detection and precision, or personalized, medicine targeted grants among our seven research funding opportunities.
Other grants and awards include critical support for early-career investigators, opportunities to accelerate translational research into the clinic and funding for investigators focused on KRAS, the most frequently mutated protein in pancreatic cancer.
In 2017, we will invest $12.8 million in innovative research, a 33 percent increase over last year. This investment includes both our competitive, peer-reviewed Research Grants Program and our internal research initiatives.
"The pancreatic cancer research community has made tremendous strides in the past 15 years since we began funding research,  but more must be done to accelerate progress for patients," said Julie Fleshman, JD, MBA, our president and CEO. "These funding opportunities will continue to ignite the pancreatic cancer research community and create better outcomes for patients."
No two pancreatic cancer tumors are alike. Therefore, treatment options shouldn't be a one-size-fits-all approach. That's why it's so essential that researchers explore more personalized approaches to treatment, focused on taking the needs of a specific individual, mainly by analyzing the tumor's biological makeup, to provide the best treatments.
Likewise, there are no standard diagnostic tools or early detection methods for the disease. However, progress is being made! In fact, a $1 million grant for early detection that we awarded in 2013 is showing promising preliminary results.
From 2003 to 2016, we have invested more than $35.4 million in research grants, representing 142 grants to 55 institutions around the U.S.  These funding opportunities coupled with continuous advocacy efforts to increase federal funding for cancer research will help us reach our goal to double survival by 2020.
"Funding opportunities are available for researchers at all stages of their career, from postdoctoral level to early-career independent researchers and senior investigators," said Lynn Matrisian, PhD, MBA, our chief research officer. "Our competitive grants allow us to attract the best and brightest researchers to discover more effective treatment and diagnosis options for patients."
More must be done, but we are moving scientific research funding forward. When we evaluated our grants program in 2015, we found that the 92 grantees that we funded from 2003 to 2013 had published 1,191 articles in peer-reviewed biomedical journals resulting in 13,033 citations in other papers published in biomedical journals, creating a much-needed legacy to inspire future researchers.
Researchers who want to help us reach our goal to double survival by 2020 are strongly encouraged to visit www.pancan.org/grants2017 to learn more and apply.