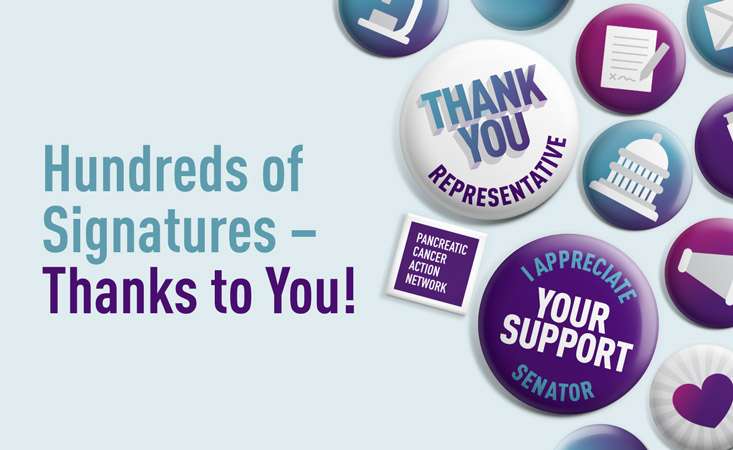 Hundreds of members of Congress are showing up for pancreatic cancer survivors and their loved ones – all thanks to our incredible advocates.
Consider the following:
During our most recent advocacy campaign, we had 110 representatives sign their name on a letter to support increased funding for the Pancreatic Cancer Research Program at the Department of Defense. This is one-quarter of the House! Nineteen of those signers are new to the cause.
Thirty senators from across the country – one-third of the Senate – signed on as well.
All of this when Congress welcomed over 80 new members, many of whom may have never heard about PanCAN until our advocates shared their stories.
Every single message sent by PanCAN advocates contributed to this strong showing. You're making progress possible by raising awareness with your elected officials.
And we're not done yet. Advocacy is a year-round movement. While we've done tremendous work to make sure the Pancreatic Cancer Research Program at the Department of Defense is funded for fiscal year 2024, we have to keep the pressure on.
We're urging Congress to invest $20 million in the program to provide more opportunities for research to improve outcomes for pancreatic cancer patients. This will build on the $15 million for the program you helped to make happen last year.
PanCAN advocates: We need your help. Now is the time to send a follow-up message to your members of Congress to make sure this important program continues to fund high-impact research projects.
We make it easy and will automatically match the right message with the right member of Congress – thanking those who already signed on in support, encouraging those who sit on the key Appropriations Committees to make sure our program gets funded, or continuing to educate those who haven't taken action yet.
These next few months are critical as Congress will be debating the bills that will ultimately fund the government for the next fiscal year. Remind your members of Congress that we are counting on them to prioritize pancreatic cancer research funding.
Because research leads to new discoveries about the disease, new early detection methods and new treatments. It's how we change outcomes and end pancreatic cancer for good.
Contact your members of Congress to tell them when it comes to federally funded pancreatic cancer research, you want it now – no ifs, ands, or cuts! Don't let progress slow down, or even worse, stop. Demand Congress pass $20 million in dedicated funding –
take action now.