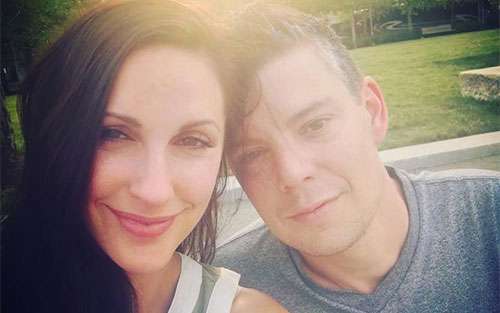 As reported on TODAY.com, Jennifer Baker and her husband, Justin, were taking a walk together on a sunny July afternoon through the harbor in Fairfax, Va., and stopped for a moment to sit together, a rare pleasure for the parents of two young children. They had been crying for hours, because earlier that day Justin was diagnosed with stage IV pancreatic cancer. Then Jennifer asked Justin if she could take a selfie of the two of them. He smiled and said "yes."
"It was the first chance we had a moment to sit down, just the two of us and really take in what was going on," Jennifer, a 34-year-old registered nurse, told TODAY. "I remember thinking, 'I don't know when the next time I'll be able to sit down and talk to him heart to heart."
Jennifer posted the selfie on Facebook and wrote to her husband, "So this is us… the day our next chapter really began…Maybe you knew that this moment would show our love like no photo ever had before. That kind of love, the love that we have, you can't get it just anywhere. It takes years of hard work and dedication to grow."
She concluded the post with, "So this is us going forward… with fear in our heads, with strength in our eyes, and with love in our hearts… a love that will last forever. Because it was always you, and it always will be!!!"
When Justin looks at the photo, he told Today that he sees "strength," confiding, "I know that the love that we have can get our family through anything."
At first, Justin, an oral surgeon, was told he had lymphoma before he was diagnosed with pancreatic cancer. He began chemotherapy for the disease earlier in August, and his family set up a fundraising page to help support his medical expenses.
The Pancreatic Cancer Action Network (PanCAN) recently published articles on coping with the financial impact of cancer and a couple facing the financial stress of the disease. PanCAN's PanCAN Patient Services Case Managers can answer questions and provide pancreatic cancer patients and their families with information about financial, insurance and transportation resources to help ease this burden.
Jennifer told TODAY she's taking things day by day. "Some days we're optimistic, and some days we're not."
But when she thinks of how her 3-year old daughter, Annabelle and 7-month old son, Jamison will regard the selfie, she hopes that they'll "think just how hard we worked to get through everything. You have to be strong and…you may not always have more time."
Justin added, "I can only hope to make the absolute most of it and take advantage of every minute to let them know just how much I love them and what they mean to me."
For free support, resources and in-depth information about pancreatic cancer call (877) 272-6226, Monday to Friday from 7 a.m. to 5 p.m., Pacific Time or complete our contact form.