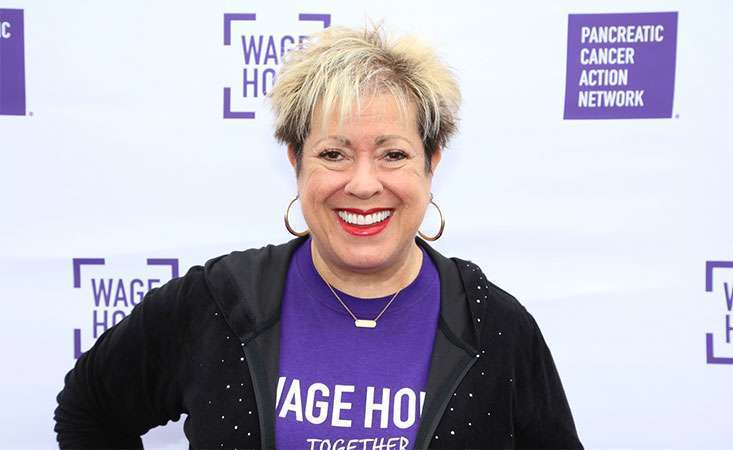 Simply put, the Pancreatic Cancer Action Network (PanCAN) would not exist without Pamela Acosta Marquardt.  
"It all started with me being upset I lost my mother to pancreatic cancer, and there were no resources available," Marquardt said.
She continued, "Someone once said, 'One person can have a dream, and when joined by others, it becomes a vision. When put into action, it becomes a movement.'"
The PanCAN "movement" recently celebrated its 20th anniversary – 20 years of advancing research, supporting patients and creating hope for everyone affected by pancreatic cancer.
Marquardt puts her heart and soul into everything she does for PanCAN, which includes participating in numerous PurpleStride events, speaking opportunities and intimate meetings with supporters.
But some personal health issues over the past year and a half have been a reminder to Marquardt to slow down and take care of herself, too.
As May is Women's Health Month – and today is her birthday – Marquardt noted, "I think in general we as women tend to take care of everybody around us before we take care of ourselves.
"I try to remind myself every single day to take a few minutes to pause – whether it's to read a book, close my eyes and let my thoughts flow or go get a massage – these are the things I try to do for myself now."
A year and a half ago, Marquardt's body sent some clear signals that it needed her to slow down. What started as a case of shingles evolved into a viral infection that attacked her whole body.
Next, an autoimmune disorder called chronic inflammatory demyelinating polyneuropathy took over. "I suffered from almost complete paralysis; I could not move my arms or legs," she said.
It was about four months until Marquardt began to regain control of her body. Through the fear and pain, she used that time for introspection.
"I thought about how I had been running myself ragged, not even pausing to deal with a recent tragedy in my family," she recalled. "I put everyone and everything else first – and I vowed I would never do that again."
There's another reason Marquardt is especially attuned to paying close attention to her body now. Through the doctors' search to determine what was initially causing her symptoms, a full-body CT scan revealed a cyst on her pancreas.
Additional testing found there are actually three cysts on her pancreas. While most cysts are benign, Marquardt is being carefully watched due to her family history of losing her mother, and possibly her grandfather, to pancreatic cancer.
"I'm being monitored every six months by various imaging methods," Marquardt said, "and if anything changes, I'm fully prepared to take next steps to stay healthy."
Nowadays, Marquardt has kept her promise to slow down and take time for self-care. "I mean, I still give more than 100 percent, because that's who I am," she said with a chuckle. "It's just now, I limit myself to 130 percent, instead of all the way to 150 percent!"
But in all seriousness, she said if she starts pushing too hard again, her body quickly reminds her of her "new normal."
Her advice to others? "Nobody knows our bodies better than we do. Pay attention to all signs and symptoms, no matter how small. Our body speaks to us through pain and other discomfort.
And since sometimes there aren't any symptoms, we need regular checkups with our doctors even when we feel fine."
She added, "We should all focus on doing the good we want to do in this world and take care of the people we love – we just need to do it as our healthiest selves."
Pancreatic cancer patients and their caregivers can
turn to Patient Central
for tips on self-care and how to best advocate for yourselves and your loved ones.