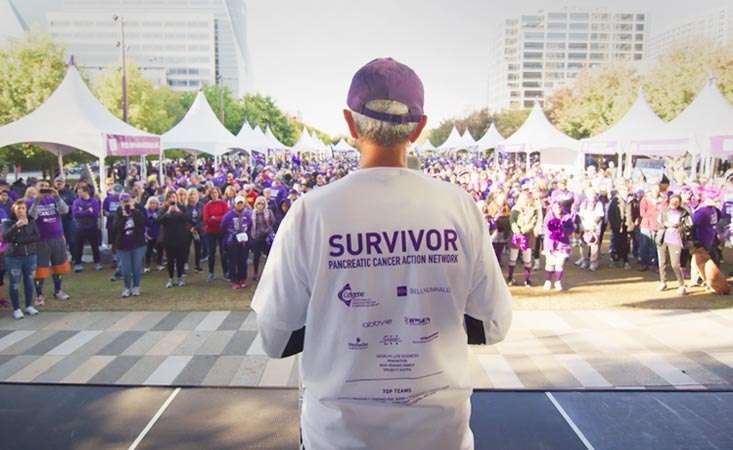 From our headquarters in Manhattan Beach, Calif., and around the globe from Sydney to Slovenia – people are seeing purple today, on World Pancreatic Cancer Day.
Here at home, PanCAN is working every day to accelerate progress and give a better future to pancreatic cancer patients and their families through research, patient and caregiver support, advocacy and more.
November is Pancreatic Cancer Awareness Month, a time to raise the bar on better outcomes by raising awareness about the risks and symptoms of the disease, as earlier detection saves lives. PanCAN has released a series of public service announcements and stories to help spread the word about the symptoms and risk factors.
"We hope that people will be aware and alert their doctor sooner when there is more opportunity for intervention," said Pancreatic Cancer Action Network (PanCAN) President and CEO Julie Fleshman, JD, MBA.
"On World Pancreatic Cancer Day, we unite as a global movement to advocate for early detection and better outcomes for pancreatic cancer patients – but every day at PanCAN we are making strides to achieve that goal."
Today, supporters in 34 countries, spanning six continents, are wearing purple, sharing the symptoms and risk factors, lighting iconic monuments purple and much more – all to bring attention to the disease. You can, too:
Share the Symptoms Quiz and Risk Assessment Test
Become a monthly donor and fund research, patient services and other critical programs
Wear purple and post a picture on social media using #WPCD, #PANCaware and #PanCAN
For continued updates on the day's activities, including our own special event at PanCAN headquarters, visit PanCAN's Facebook, Twitter and Instagram.
See all the ways you can
get involved
during Pancreatic Cancer Awareness Month and beyond.