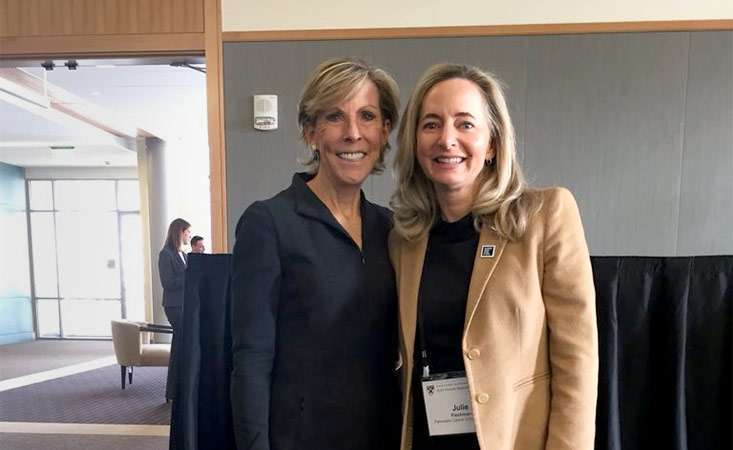 Editor's note: Pancreatic Cancer Action Network (PanCAN) President and CEO Julie Fleshman attended the Harvard Business School (HBS) Kraft Precision Medicine Accelerator Roundtable meeting in Boston on April 11, where discussions centered on innovative ways to navigate challenges and speed advancements in precision medicine. PanCAN is one of several cancer organizations collaborating through the HBS Kraft Precision Medicine Accelerator initiative. Below, Fleshman shares insights from the meeting.
"It's not the great stars that win; it's the great teams that win."
This was an inspiring quote by Robert Kraft to leaders from patient advocacy groups, healthcare institutions, investment firms, data and analytics experts, Harvard faculty, and members of the media this week, kicking off the HBS Kraft Precision Medicine Accelerator Roundtable meeting, themed "Accelerating Precision Medicine: From Promise to Reality." He spoke about the need for collaboration and bringing together teams of great leaders.
Kraft is certainly familiar with teamwork.
He is the owner of the New England Patriots and under his leadership, they have won five Super Bowl championships. In 2016, the Kraft family pledged $20 million to Harvard Business School to establish an endowment for the advancement of precision medicine, and the HBS Kraft Precision Medicine Accelerator was born. His commitment was fueled by the death of his wife, Myra, to ovarian cancer in 2011.
Co-chairs Kathy Giusti and Richard Hamermesh invited me to attend, along with Jenny Isaacson, PanCAN's vice president of strategic partnerships and projects, who was one of the speakers.
It's been an honor for PanCAN to be among the patient advocacy organizations collaborating as part of the initiative for more than a year now. The goal is to eliminate inefficiencies in precision medicine development and get targeted therapies to patients faster.
Jenny, who serves on the direct-to-patient workstream of the HBS Kraft Precision Medicine Accelerator, was a panelist in the roundtable's "Direct to Patient: Changing Consumer Behavior" discussion. One way to change patient behavior is to educate them about precision medicine. In fact, next month, the HBS Kraft Precision Medicine Accelerator will introduce to the cancer community at-large a new model, called Right Track, designed to educate patients about the key steps they should take to ensure the best treatment outcome for them.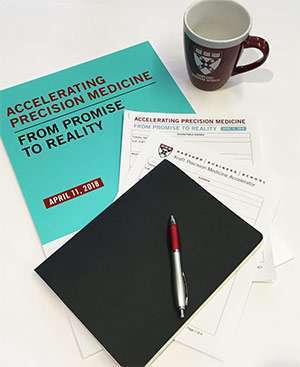 Other presentations and panel discussions centered on "Challenges in Precision Medicine," "Data and Analytics," "Platform Trial Design" and "Venture/Investments," which explored new business models to fund cancer cures.
The HBS Kraft Precision Medicine Accelerator's goal is to speed medical breakthroughs in precision medicine, which aligns with PanCAN's goal to improve patient outcomes and double pancreatic cancer survival by 2020. PanCAN offers patients access to our Know Your Tumor® precision medicine service, which provides patients and their oncologists with the tumor's biological information and personalized treatment options – including clinical trials – which may not have been considered otherwise. We also look forward to the launch of our Precision PromiseSM initiative – the world's first adaptive clinical trial platform for pancreatic cancer patients – in 2019.
I returned from the roundtable this week inspired and energized by the collective mission of all who attended – to speed breakthroughs in research to improve the lives of cancer patients. The incredible collaboration and teamwork of all the organizations working to do this is extremely powerful.
Robert Kraft is right: We can achieve more together.
The great teams win.
To learn more about PanCAN's patient services or for any other pancreatic cancer information,
contact Patient Central
.