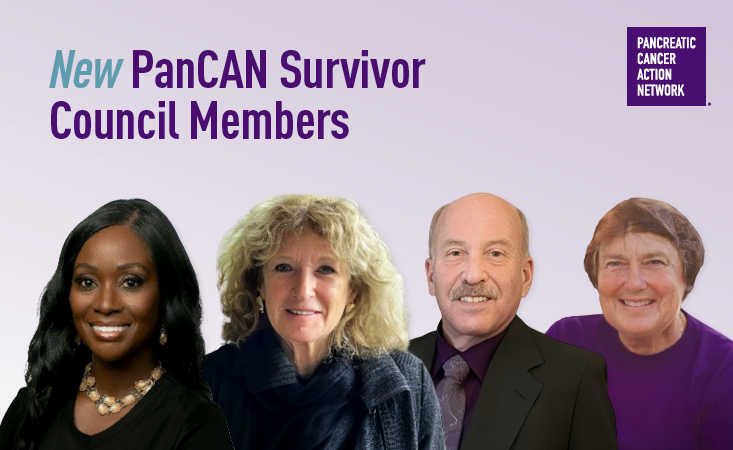 PanCAN proudly welcomes four new members to the PanCAN Survivor Council. Members serve as advisors to PanCAN and ambassadors of hope for anyone affected by pancreatic cancer.
The four new members are Joy Faye Heines, Pamela Jackson, Reesa Levy, and Steven Merlin. Their terms started July 1. They join members Anggie Becorest, Lisa Beckendorf, Randi Ervin, Paris Johnson, Clayton Mansfield, Nick Pifani, Diane Schooley-Pettis, Ray Shupe, John Walmsley, and Anne Shimabukuro. Lisa and Nick are serving as co-chairs of the Council.
Joy, Pamela, Reesa, and Steven will join the rest of the members in ensuring that the voices and experiences of survivors are integrated into all that PanCAN does. They're also a resource for those affected by pancreatic cancer and refer them and their families to PanCAN Patient Services for free resources and support.
Pamela is a 12-year survivor. She is determined to make sure the Black community has more information on pancreatic cancer and the risk factors and symptoms. She was diagnosed early but knows that is rare with this disease, and that it affects Black Americans more than any other racial or ethnic group.
To those currently facing the disease, Pamela encourages them to remember, "You are not alone. There is hope. Be encouraged. It's possible to come out smiling on the other side, doing good in the world."
Reesa has used her voice to advocate for increased funding in Washington, D.C., during PanCAN's annual advocacy event, and has served as a Team Captain for PanCAN PurpleStride for four years. Reesa describes herself as an "unofficial resource for newly diagnosed survivors," a role that will work seamlessly with one of the Survivor Council's goals of spreading awareness about Patient Services. She is a six-year pancreatic cancer survivor.
Steven is an 11-year survivor. With the help of a Patient Services Case Manager, Steven was the first person in the United States to enroll in a clinical trial for a PARP inhibitor. A 40-year career in clinical cancer, immunology and stem cell research at academic, government and private research foundations in the U.S. and Switzerland has given him a unique perspective on helping others deal with this disease.
An elementary school physical education teacher, coach, and mother of three, the autumn of 2004 was business as usual for Joy until she experienced abdominal pain that stopped her in her tracks. A needle biopsy from a surgeon her internist referred her to showed no signs of cancer, but the surgeon said, "Nothing that can grow in the pancreas can be good," so a Whipple procedure was scheduled after much thought and prayer. The biopsy confirmed pancreatic cancer. After intense rounds of chemotherapy and radiation, Joy is a 19-year survivor.
Joy discovered and joined a PanCAN group in Louisville in 2013. She served as the chair of the PurpleLight event for the local group and once Louisville was made an affiliate, she quickly stepped up additionally as the PanCAN PurpleStride chair. Her years of experience as a cross-country and track coach and meet organizer made her the perfect choice for that role. Now retired, Joy and her husband Rob are anxiously waiting for the day they are blessed with some grandchildren!
We are grateful to Joy, Pamela, Reesa, Steven, and the rest of the Survivor Council for their dedication to creating a world in which all survivors of pancreatic cancer will thrive.