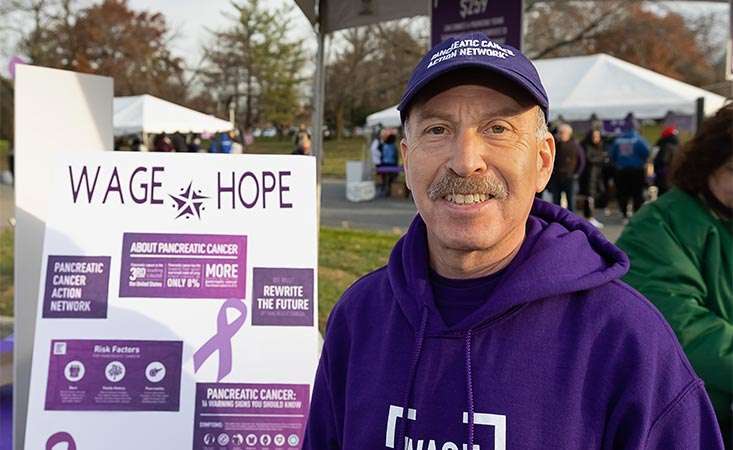 Editor's note: Earlier this year, we featured Steven Merlin's amazing dedication as a Pancreatic Cancer Action Network (PanCAN) volunteer and patient advocate. Today, during Men's Health Month and as part of a series in honor of National Cancer Survivor's Day, we share his treatment story, which highlights the value of precision medicine for pancreatic cancer patients.
Steven Merlin is an eight-year pancreatic cancer survivor who believes that he is doing well today in large part thanks to his treatment regimen – which was ahead of its time.
Steven was diagnosed with stage III locally advanced pancreatic acinar cell carcinoma – a very rare, highly aggressive form of pancreatic cancer – in 2012.
He had surgery – not common for someone with his disease stage. But the follow-up chemotherapy treatment, Gemzar®, had no impact, and the cancer spread.
So, Steven switched to the chemotherapy FOLFIRINOX, which started shrinking his tumors.
Meanwhile, he saw a geneticist, who found through genetic testing that he had a BRCA2 mutation.
Pancreatic cancer patients who have BRCA mutations may respond particularly well to two types of treatment: platinum-containing chemotherapy (like FOLFIRINOX) and PARP inhibitors (a type of targeted therapy).
But when Steven was being treated, that wasn't widely known. And precision medicine – treatment based on a patient's biology or the biology of their tumor – was not often used for pancreatic cancer at the time.
Nevertheless, the geneticist knew about the treatment approach's potential for Steven and recommended he look for a clinical trial that used a PARP inhibitor. Steven turned to PanCAN's Patient Services, who helped him research and connect with trials.
He found one that met all of his needs.
Steven consulted with his primary oncologist as well as the investigator running the trial and decided to continue on FOLFIRINOX until he wasn't benefitting from it anymore.
Then, in October 2014, he switched over to the clinical trial.
Steven was the first patient on the trial. He was also the first patient to have a complete response.
"FOLFIRINOX put me into remission," Steven said. "The PARP inhibitor kept me there."
Every pancreatic tumor is different. Patients whose treatment aligns with their tumor biology and/or genetic makeup can have improved outcomes. PanCAN strongly recommends molecular profiling and germline (genetic) testing to help determine the best treatment options.
Today, it is more common for pancreatic cancer patients to get treatment based on their tumor's biology or their genetic makeup – with testing done through their institution or services like PanCAN's Know Your Tumor® – than it was in 2014. There is even a PARP inhibitor approved by the FDA for certain pancreatic cancer patients with BRCA mutations – thanks to trailblazers like Steven who participated in clinical trials.
And Steven is dedicated to spreading the word about pancreatic cancer and supporting others diagnosed with the disease.
"We all have a purpose," he said. "I got my diagnosis and could have said, 'This is it for me.' But I didn't."
An area he is particularly passionate about is advocacy.
For the last three years, he has traveled to Washington, D.C., to meet with his members of Congress and urge them to increase federal research funding for the disease as part of National Pancreatic Cancer Advocacy Day.
This year, the event will be a week of virtual activities (June 15-19) – and Steven will keep raising his voice to speak up for those diagnosed with pancreatic cancer, now and in the future.
Join Steven for PanCAN Advocacy Week and take quick, easy actions to show Congress the importance of funding pancreatic cancer research. And register today for Monday's free, one-hour virtual kickoff event featuring advocates and special guests Sen. Sheldon Whitehouse (D-RI) and cancer researcher Anirban Maitra, M.B.B.S. 
For more free information about pancreatic cancer treatment – including clinical trials and precision medicine – and anything else related to the disease,
contact Patient Services
.
Any treatments, including clinical trials, mentioned in this story may not be appropriate or available for all patients. Doctors take many things into account when prescribing treatments including the stage and type of cancer and the overall health of the patient.