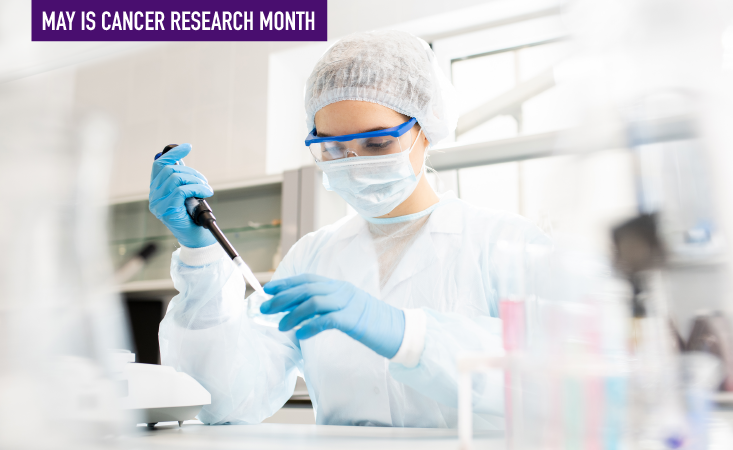 Since its launch in 2003, PanCAN's Research Grants Program has awarded 218 grants to 203 scientists at 75 institutions. Our total projected research investment is more than $149 million to date, including our grants program and leading-edge scientific and clinical initiatives, like PanCAN's Precision PromiseSM adaptive clinical trial and PanCAN's Early Detection Initiative.
PanCAN research grant recipients are selected through a peer review process, in order to fund the most meritorious projects and wisely invest donors' money. As evidence of the success of this strategy, a recent analysis showed that for every $1 PanCAN invested in research grants from 2003 to 2019, our grantees went on to receive an incredible $11.50 in subsequent funding to pursue projects focused on improving our understanding of pancreatic cancer and how to detect and treat it.
PanCAN's research grants portfolio has included supporting early-career scientists to build and strengthen the field, as well as funding highly promising projects in the clinic and the lab. A key focus has been on supporting translational research, which refers to projects that are intended to bridge the gap from the lab bench to the patient bedside. Sometimes dubbed the "valley of death," it can be a very difficult leap for promising ideas to get from the lab to transition to clinical study and eventual clinical benefit.
To date, PanCAN has awarded 31 Translational Research Grants. Two sample projects are described below that have resulted in exciting publications in prestigious biomedical journals within the past couple of months.
Using Bacteria to Treat Pancreatic Cancer
Claudia Gravekamp, PhD, is taking an unconventional approach to one of the biggest challenges in treating patients with pancreatic cancer.
"Immunotherapy has so far been of little use at treating highly aggressive pancreatic cancer, due to its immunosuppressive tumor microenvironment and lack of neoantigens," Dr. Gravekamp said.
Neoantigens are small pieces of proteins on cancer cells that stimulate an immune response – they help the patient's immune system differentiate the cancer cells from healthy cells. But neoantigens are scarce in pancreatic cancer cells, and the tumor and its surrounding environment fight to keep the immune system out.
Dr. Gravekamp, Associate Professor in the Department of Microbiology & Immunology at Albert Einstein School of Medicine, received a PanCAN Translational Research Grant in 2016 to determine whether using Listeria bacteria to deliver neoantigens directly to the cancer cells may stimulate an immune response and effectively kill off the pancreatic cancer cells.
In partnership with her co-principal investigator Jennifer Chuy, MD, as well as other researchers and clinicians, Dr. Gravekamp recently published encouraging findings in the esteemed journal Science Translational Medicine.
"The Gravekamp lab has solicited the help of Listeria monocytogenes to deliver highly immunogenic tetanus toxoid proteins, as a neoantigen surrogate, into tumor cells," Dr. Gravekamp said. This delivery, tested in mice so far, elicits an immune response, partly because of immune memory T-cells that remember their exposure to tetanus through childhood vaccination.
"When combined with low doses of gemcitabine chemotherapy, which further decreases immune suppression, advanced pancreatic cancer tumor burden and metastases were significantly reduced through this investigational treatment combination in mice," Dr. Gravekamp said. The next step is early-phase clinical trial testing in patients, which they're hoping to initiate in about a year, and which will be conducted through Loki Therapeutics, a startup company in New York.
None of this would be possible without support from PanCAN donors. "Thanks to generous donors, we were able to obtain data for submission of a pre-IND application," Dr. Gravekamp said. The pre-IND, or investigational new drug designation from FDA, is necessary before a treatment can be tested in patients.
Breaking Down Proteins to Kill Cancer Cells
Fengzhi Li, PhD, Associate Professor of Oncology in the Department of Pharmacology and Therapeutics at Roswell Park Comprehensive Cancer Center, received his PanCAN Translational Research Grant in 2020.
When choosing a model system in which to study the lab's investigational drugs, Dr. Li selected pancreatic cancer as "the most difficult-to-treat" cancer, he told us. Earlier this month, Dr. Li's findings were published in Clinical and Translational Medicine, and his PanCAN Translational Research Grant was cited as a key funding source.
Dr. Li focuses on a novel anticancer drug, named FL118, that is derived from Chinese tree bark. He and his team found that FL118 directly binds to and induces the degradation (breakdown) of a protein called DDX5.
DDX5 is a master cancer promotor/regulator and involved in blocking a type of programmed cell death – like cell suicide – called apoptosis. DDX5 regulates apoptosis through controlling the expression of multiple cancer-causing genes/proteins. Thus, when FL118 directly blocks DDX5's activity/expression and indirectly inhibits the expression of other key cancer-causing genes and proteins, massive apoptosis and pancreatic cancer cell death are allowed to occur.
The paper describes FL118 as a "molecular glue degrader," referring to how it sticks to and breaks down the DDX5 protein. This causes the death of pancreatic cancer cells both in cell culture dishes and in pancreatic tumors implanted in mice. The research team also found that FL118 wasn't effective in pancreatic cancer cells that were engineered to lose expression of DDX5 via a novel technology, called "CRISPR-Cas9," suggesting that DDX5 is the direct FL118 target, and DDX5 expression could serve as a biomarker to carry out precision medicine (personalized medicine) for pancreatic cancer patients who have high DDX5 expression. This will avoid unnecessary treatment and improve patients' quality of life.
For next steps, Dr. Li shared that his team will use "state-of-the-art proteomics technology and other strategies to further study how the DDX5 protein gets degraded after FL118 binds to it." This information can not only lead to the identification of additional therapeutic targets within the pancreatic cancer cells but can also provide additional possibilities to conquer this most difficult-to-treat disease through combination approaches to further strengthen the effectiveness of FL118.
"The key data related to pancreatic cancer that were published in this paper were generated through PanCAN research grant funding support," Dr. Li said. "The PanCAN Translational Research Grant has been pivotal for these studies, and this paper would not exist at this time without this funding."
These and other leading-edge projects are able to take place because of the generosity and trust of PanCAN's donors and supporters.
Give today
to allow PanCAN to continue to support research through innovative grants and transformative scientific and clinical initiatives.