Did you know there are more than 180 different pancreatic cancer clinical trials currently enrolling patients in the United States?
Pancreatic cancer patients who participate in clinical research have better outcomes. Every treatment available today was approved through a clinical trial. The Pancreatic Cancer Action Network (PanCAN) strongly recommends clinical trials at diagnosis and during every treatment decision.
To help patients understand, find and enroll in clinical trials, PanCAN offers a variety of clinical trials information and resources. This includes a clinical trials database, which is the most accurate and up-to-date resource for pancreatic cancer clinical trials in the country.
As of September 2018, there are 181 pancreatic cancer clinical trials across the United States. There are trial sites in all 50 states and the District of Columbia.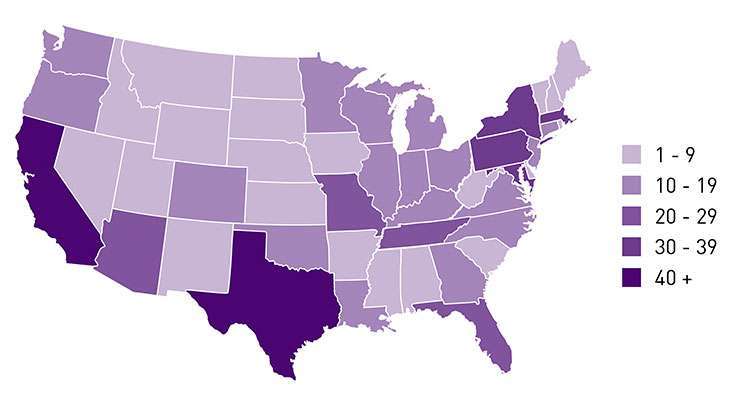 The number of pancreatic cancer clinical trial sites enrolling patients in each state as of September 2018. There are also trial sites enrolling patients in Alaska and Hawaii.
Many patients think that clinical trials are a last resort. But that isn't true, and there are many trials available for patients who haven't yet received any form of treatment. Right now, in fact, there are over 90 such trials. This means that a clinical trial may be an option even for your first treatment.
On the flip side, some patients think that clinical trials aren't available for those who have already received treatment. Yet, most pancreatic cancer trials enrolling patients today are for those who have already been treated.
Two-thirds of available trials are for patients who have already received at least one treatment. That means that, even if you've been treated before, there are trials available for you.
It is also encouraging that about 17 percent of trials right now are biomarker-driven. This means that the treatment is based on your tumor's biology. Knowing the biology of your specific tumor can help provide more treatment options, including clinical trials, for you and your doctor to consider.
There are many factors that impact whether you can join a clinical trial.  New clinical trials open often, and PanCAN encourages you to consider clinical trials every time you make a treatment decision. It is important to have a conversation with your healthcare team about what is the best fit for you.
With the many trials available nationwide, a clinical trial that is right for you may be closer than you think.