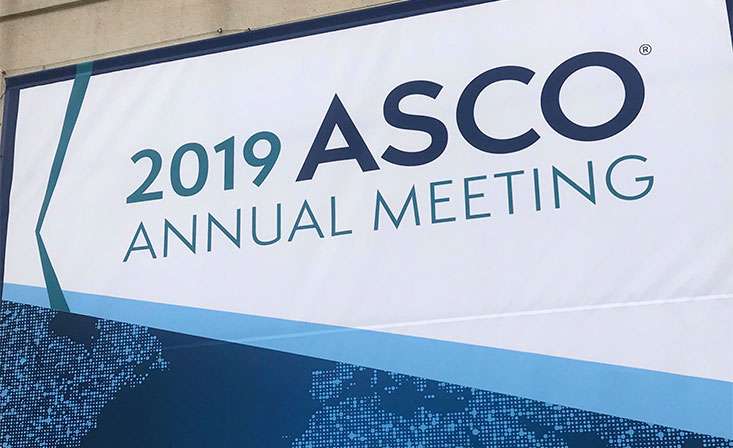 This year's American Society of Clinical Oncology (ASCO) Annual Meeting has brought 40,000 oncologists and other cancer experts from around the world together in Chicago to focus on this important theme: Caring for Every Patient, Learning from Every Patient.
Attended by Pancreatic Cancer Action Network (PanCAN) President and CEO Julie Fleshman, JD, MBA, Chief Medical Officer Victoria Manax, MD, Chief Data Officer Sudheer Doss, PhD, and other Scientific and Medical Affairs staff, the conference has been jam-packed with plenary talks, discussions, poster presentations and networking.
"I look forward to this meeting all year long," Manax said. "It's invigorating to be surrounded by so many people with so many ideas – all coming together with the shared goal to improve and extend cancer patients' lives."
This year, there was a special spotlight on pancreatic cancer provided by a high-profile plenary session on June 2. The presentation, given by PanCAN Scientific and Medical Advisory Board member, Hedy Kindler, MD, described promising phase III clinical trial results using a targeted therapy called a PARP inhibitor in a subset of patients with pancreatic cancer.
Pancreatic cancer patients who participate in clinical research have better outcomes. Every treatment available today was approved through a clinical trial. PanCAN strongly recommends clinical trials at diagnosis and during every treatment decision. 
"The clinical trial results showed a certain subset of metastatic pancreatic cancer patients had a good response to a PARP inhibitor called Lynparza® (olaparib) if their tumor had already responded to platinum-containing chemotherapy," Manax explained. "In the 151 patients treated through this trial, 22.1 percent of patients who received Lynparza had no disease progression two years after starting the treatment, as compared to 9.6 percent of patients who did not receive Lynparza."
Great example of #precisionmedicine approach in #pancreaticcancer -- new #clinicaltrial results show pts w/ germline #BRCA mutations respond well to #PARP inhibitor Lynparza after platinum-based chemo. https://t.co/SQuKqEGlDl @ASCO #ASCO19 @PanCAN

— Julie Fleshman (@JulieFleshman) June 2, 2019
Rather than focusing on the genetic makeup of the cancer cells, this trial recruited patients with specific germline mutations. People are born with germline mutations, which affect every cell of their body. Specifically, the trial recruited patients with a germline mutation in BRCA.
While germline mutations can be associated with a family history of other types of cancer, research suggests a similar rate of germline mutations occurring in individuals with pancreatic cancer even if no family member has had cancer.
New National Comprehensive Cancer Network (NCCN) guidelines now recommend germline genetic testing for all patients with pancreatic cancer – providing valuable information that can impact the patient and family members' risk of developing cancer and the patient's treatment options.
"While a relatively small subset of patients with pancreatic cancer have germline BRCA mutations (thought to be around 5 to 6 percent), an additional group of patients have mutations in BRCA or similar-acting proteins that arise only in the cancer cells, bringing the total patients with these types of tumor alterations to approximately 15 percent," Manax said.
She continued, "Additional clinical trials are underway to determine whether patients whose tumors (but not germline) have mutations in BRCA or similar-acting proteins will also benefit from this treatment regimen."
Pancreatic cancer patients can enroll in PanCAN's Know Your Tumor® precision medicine service to find out about molecular alterations that occur in either their germline or the cancer cells; both can impact treatment options for that patient.
Previously published results show 27 percent of patients who participated in Know Your Tumor had at least one "highly actionable" alteration found in their tumor. Highly actionable alterations are changes in the cancer cells, such as BRCA mutations, that can inform the most effective treatment options for that patient.
And, patients who had highly actionable alterations found through Know Your Tumor and went on treatment aligned with their tumor's biology had better outcomes.
"Today at the ASCO Annual Meeting, our colleagues at Perthera presented a poster describing results from more than 1,000 patients who have participated in Know Your Tumor to date," Manax said. "Building upon the published data describing 640 patients, we're continuing to see survival advantages for patients whose treatment aligns with their tumor's characteristics."
Every pancreatic tumor is different. PanCAN strongly recommends molecular profiling of your tumor to help determine the best treatment options.
"We're pleased to see Lynparza as another treatment option for certain pancreatic cancer patients," Manax said, "but we're looking forward to the day when we have effective treatments for every patient with pancreatic cancer, not just those with certain molecular and genetic characteristics."
She added, "The ASCO annual meeting provides an important opportunity to celebrate successes in the treatment of cancer patients and to devise strategies to bring advancements to even more patients."
Contact Patient Central
to learn more about the treatment of pancreatic cancer patients, including access to our Know Your Tumor precision medicine service and a personalized clinical trials search.