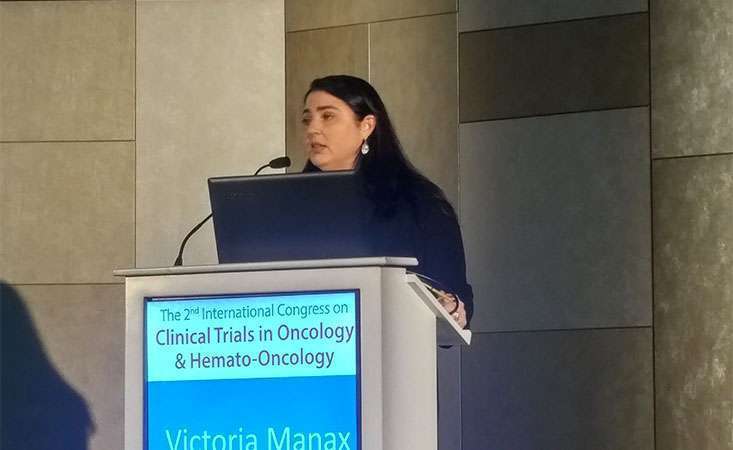 The 2nd International Congress on Clinical Trials in Oncology and Hemato-Oncology (ICTO2018) took place earlier this week in Berlin. The conference website boasts that "an international faculty of experts in the field of clinical investigation" was assembled.
One of those experts was Diane Simeone, MD, professor of surgery and pathology, director of the Pancreatic Cancer Center and associate director of translational research at Perlmutter Cancer Center/NYU Langone Health, who delivered the keynote presentation. Simeone is chair of the Pancreatic Cancer Action Network's (PanCAN) Precision PromiseSM Steering Committee and the organization's Scientific and Medical Advisory Board.
Precision Promise is the first adaptive clinical trial platform for pancreatic cancer patients in the world and PanCAN's groundbreaking initiative to dramatically improve patient outcomes and advance the organization's goal to double survival by 2020.
In addition to Simeone's keynote lecture, a session focused on Precision Promise also took place. Victoria Manax, MD, chief medical officer at PanCAN, served as the moderator and provided an introduction for the important session.
"The invitation to describe our groundbreaking initiative on an international stage was extremely exciting," Manax said. "It allowed us to gather input and insights from other experts from all over the world to ensure that our initiative is the best it can be."
Within the Precision Promise session, Simeone spoke about the initiative as a new paradigm in clinical trial design in pancreatic cancer.
She wrote in the session description: "Important components of the platform trial include deep analysis of each patient tumor before and during treatment, biomarker development, access to multiple treatment options for each patient, and close alignment with the FDA to push innovation in clinical trial design."
This complexity and attention to detail will ensure that once the trials open in 2019, the team will learn as much as possible – and as quickly as possible – from each patient who participates.
"The beauty of an adaptive clinical trial is that it learns as it goes," Manax explained. "Precision Promise trials will learn faster by requiring fewer patients to more rapidly answer important scientific questions for a disease where there is no time to waste."
The remaining speakers in the Precision Promise session were key consultants Wendy Selig and Donald Berry, PhD, who discussed engaging industry partners in the initiative and design innovations for the adaptive platform, respectively.
"It was an honor and a privilege to stand alongside my esteemed colleagues and address this multicultural, multidisciplinary audience of experts who, like us, seek to improve the clinical trials system to benefit patients today and in the future," added Manax.
Precision Promise is expected to launch in 2019. If you or someone you love has been diagnosed with pancreatic cancer, contact PanCAN Patient Services today to learn about treatment options, including a personalized clinical trials search, and for any other disease-related information.
You can help transform patient outcomes through Precision Promise as well as other clinical and research initiatives spearheaded by PanCAN.