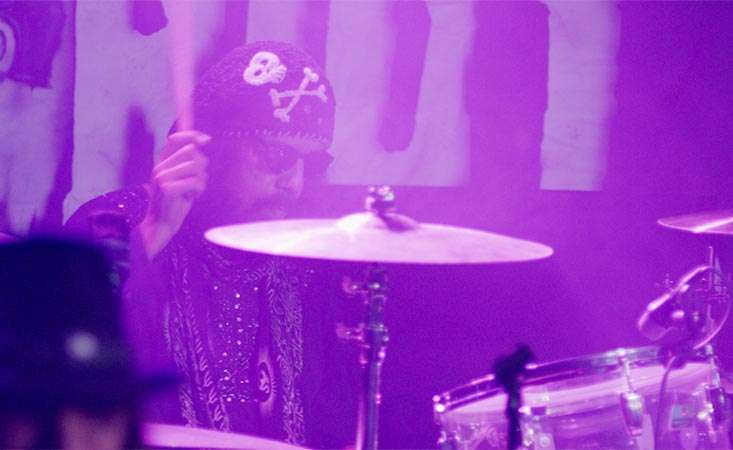 Rock 'n' roll has lost an icon, and the pancreatic cancer community lost a friend and passionate supporter. Frankie Banali, longtime drummer for Quiet Riot, passed away August 20, 2020, after a battle with pancreatic cancer.
Quiet Riot is a multi-platinum heavy metal band, the first heavy metal band to top the Billboard album chart. Banali was the original drummer and before his diagnosis, hadn't missed a performance in 38 years.
Banali was diagnosed with pancreatic cancer in April 2019, went through seven rounds of chemotherapy, and then returned to the stage with Quiet Riot in October for a sold-out show at the famed Whiskey a Go Go in West Hollywood, Calif.
His wife Regina was steadfast by his side helping him navigate his treatment. While researching the disease last year, she found the Pancreatic Cancer Action Network (PanCAN) and reached out to its Patient Services for guidance. Shortly after, they both connected with staff at PanCAN, which quickly developed into a friendship – and the Banalis being willing to do whatever they could to create more urgency for better treatment options.
Banali invited a camera crew from PanCAN to film the show at the Whiskey where he spoke to the crowd about the disease. The video became a PSA for PanCAN's Pancreatic Cancer Awareness Month campaign, held annually in November.
Banali and Regina also made a surprise visit to PanCAN's national headquarters, speaking to the staff just before the kickoff of the November campaign.
"Our PanCAN family immediately embraced Frankie and Regina, and we are forever thankful for the friendship and incredible energy they brought to this fight," said Pamela Acosta Marquardt, PanCAN founder. "Frankie inspired friends, fans and the entire music industry around the globe, leaving a footprint of courage, hope and passion with every touch. We send much love and our endless gratitude to Regina and are immensely thankful for their willingness to share Frankie's journey."
Illustrating Banali's fighting spirit has been his candid interviews and social media posts on his treatment journey. He was an inspiration to PanCAN, the entire pancreatic cancer community and to the world of rock 'n' roll.
We are saddened by this loss, tremendously grateful for his voice in the fight and will continue to work on behalf of all patients to improve outcomes.
Give today
to help accelerate progress toward better early detection and more effective treatment options to improve pancreatic cancer patient outcomes.