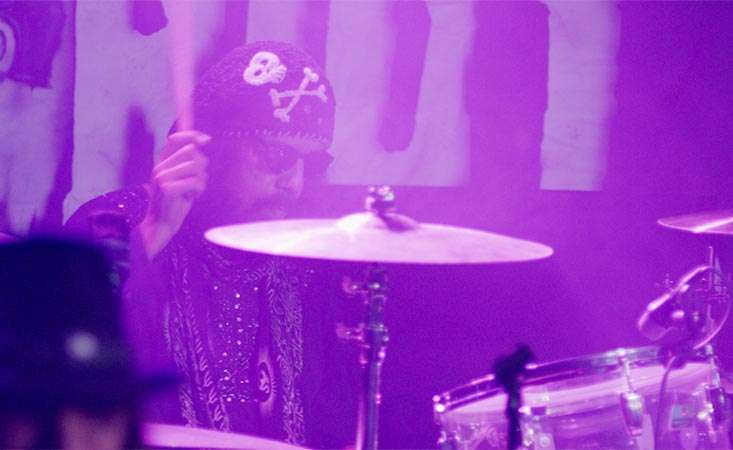 His father died of pancreatic cancer in 1974.
For decades, Frankie Banali knew that the same disease – of which family history is a risk factor – could affect him, too.
And it did – in April 2019, when a doctor delivered his scan results: "You have stage IV pancreatic cancer that has moved to your liver. You have six months to live."
As the doctor left the room he added, "I love your music."
Banali is the longtime drummer for famed heavy metal band Quiet Riot.
His first thought after diagnosis?
"'How am I going to tell my wife and daughter?' And my next thought was, 'I have to fight this.' The fact that pancreatic cancer is often considered a death sentence was unacceptable to me."
Banali grew up in New York City, where "things rarely come easy and you have to fight for everything you want to achieve," he said.
"I'm applying that same mentality to this disease. I'm not accepting the prognosis I was given."
Banali learned he had pancreatic cancer after he went to the emergency room for shortness of breath, leg pain and loss of energy – not the usual symptoms of pancreatic cancer, although a blood clot was found in his leg, which can be a symptom. A scan of his lungs caught an image of his liver, too, which is where the first spots were seen.
Then came the discovery of a tumor on his pancreas.
After diagnosis, Banali's wife, Regina, reached out to the Pancreatic Cancer Action Network's (PanCAN) PanCAN Patient Services for information about the disease and treatment options.
She learned about the Know Your Tumor® precision medicine service PanCAN offers and was impressed with the comprehensive report the couple received after Banali's tumor was molecularly profiled.
"My wife has been an incredible support to me," Banali said. "She manages my treatment appointments, clinic visits…she's my biggest advocate. Plus, she made me aware of PanCAN and they've [PanCAN] become a huge resource for us."
He has been in treatment since the spring and has completed seven rounds of chemotherapy.
"Chemo is no joke," Banali told PanCAN staff during a recent surprise visit to the national headquarters. "Everything you've heard about it is true."
Such an honor to speak to the staff at @PanCAN yesterday. Made so many friends and happy to have them all on this journey. #pancreaticcancer #wagehope @JulieFleshman @arosenzweig19 @CDittmer @LynnMatrisian pic.twitter.com/1L5DloAddN

— Frankie Banali (@FrankieBanali) October 31, 2019
He cited common side effects – weight loss, occasional depression and loss of taste and smell – among those that have affected him.
But, he added – though he knows it's ok to feel depressed every now and then, he also recognizes the value of having a positive outlook. The outpouring of love and support from fans, who learned about his cancer diagnosis when he went public about it last month, has helped greatly.
In late October, Banali returned to the stage after months of chemotherapy, performing with Quiet Riot at a sold-out concert in Hollywood, Calif. Before his diagnosis, he hadn't missed a show in 38 years.
"It was unbelievable, looking out at the crowd from the stage," he said about the night of the performance. "Getting back out there was rewarding. Hearing from the fans and feeling the love and support and prayers was reassuring and has given me additional strength to fight even harder."
Today Banali kicks off a PanCAN public service campaign running throughout Pancreatic Cancer Awareness Month this November that encourages people to know the symptoms and risk factors of the disease.
The campaign features survivors and caregivers in a series of video public service announcements and emphasizes the importance of early diagnosis and self-advocacy, which can mean a better chance at longer survival.
"I'm very motivated to do all I can," Banali said. "I have everything to gain and nothing to lose."
Meanwhile, he is looking forward to his next performance – and going back on tour with Quiet Riot in 2020.