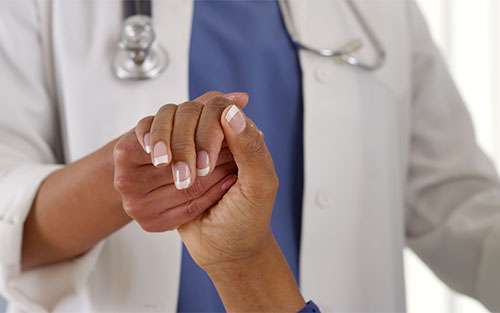 A pancreatic cancer diagnosis – and the side effects sometimes caused by treatments – can take an enormous toll on a person's physical and emotional wellbeing. A new study reinforces others' findings that a patient's quality of life (QOL) can have a significant impact on how they're feeling and how long they survive after being diagnosed with the disease.
Published in the European Journal of Cancer, a recent study concluded that patients with higher QOL scores (measuring both their physical and mental wellbeing) lived longer after being diagnosed with pancreatic ductal adenocarcinoma, the most common type of pancreatic cancer.
"The importance of this study is the finding, again, that patients with higher quality of life do better," said Alison Klein, PhD, MHS, professor of oncology, pathology and epidemiology at Johns Hopkins Kimmel Cancer Center and a coauthor on the paper.
Klein, also a member of the Pancreatic Cancer Action Network's (PanCAN) Scientific and Medical Advisory Board, continued, "Therefore, it is important that we consider ways to improve quality of life in cancer patients, including ensuring patients receive the supportive care they need."
Seeing healthcare professionals who focus on symptom management and supportive (palliative) care improves outcomes and is critical for patients' quality of life. PanCAN strongly recommends that symptom management and supportive (palliative) care be provided early in diagnosis as well as during and after treatment.  
PanCAN Patient Services Case Managers can help pancreatic cancer patients learn about supportive (palliative) care options to help maintain their QOL after their diagnosis and throughout their experience with the disease.
Some of the factors that led to poorer QOL in the European Journal of Cancer study were advanced stage of disease, smoking, low education level and time since diagnosis. Interestingly, the authors also found that, in general, Hispanics had a lower QOL than their non-Hispanic white counterparts. They theorize that this correlation is associated with socioeconomic status and comment that "appropriate supportive interventions should be formulated for this group of patients."
It's also important to note that other studies have observed relatively low levels of Hispanics and other racial and ethnic minorities participating in cancer clinical trials. Understanding how the disease impacts these populations and determining the best treatment options will be critical to improve outcomes and extend survival for everyone affected by pancreatic cancer.
Overall, the study emphasizes how pancreatic cancer patients' QOL is intertwined with their socioeconomic status and other factors, and how this measure of patients' wellbeing can affect their prognosis from the disease.
To learn more about QOL assessments and supportive (palliative) care options, or for any pancreatic cancer-related information, contact PanCAN Patient Services.