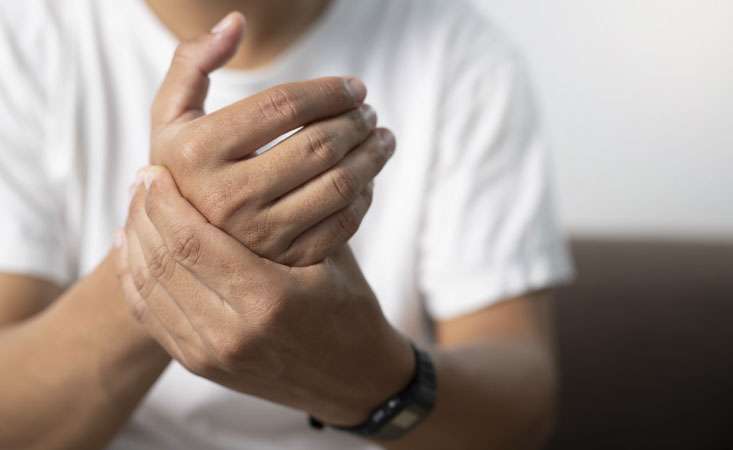 Editor's note: Peripheral neuropathy is a common issue pancreatic cancer patients face. During National Neuropathy Awareness week, we are re-sharing tips for managing the condition.
Certain chemotherapy medications can cause peripheral neuropathy, which causes damage to the peripheral nerves. Symptoms may include numbness and tingling or burning in the hands and/or feet, numbness around the mouth, loss of sensation to touch, and even constipation. Neuropathy can cause poor balance as well as decreased hand function. Sometimes neuropathy can also affect other areas of the body.
Be sure to keep the doctor informed of any side effects related to treatment, including neuropathy. The doctor can only make changes to treatment or treat side effects if they are made aware.
Below are tips from PanCAN Patient Services that can help patients manage peripheral neuropathy.
Wear cotton socks or gloves and avoid tight-fitting shoes
Avoid hot or cold temperatures, as extreme temperature changes may worsen symptoms
Ask the doctor if pain medications, antidepressants, anti-seizure or other treatments are appropriate. For mild neuropathic pain, over-the-counter medications may be recommended
Physical or occupational therapy, acupuncture, massage or relaxation therapy may relieve symptoms
After treatment, the symptoms caused by peripheral neuropathy may diminish or disappear completely, but it can take several months.
Seeing healthcare professionals who focus on symptom management and supportive (palliative) care improves outcomes and is critical for your quality of life.
The Pancreatic Cancer Action Network strongly recommends that symptom management and supportive (palliative) care should be provided early in your diagnosis as well as during and after treatment.
For more information about pancreatic cancer treatment side effects and supportive care, or to get a free booklet on the subject,
contact Patient Services
.