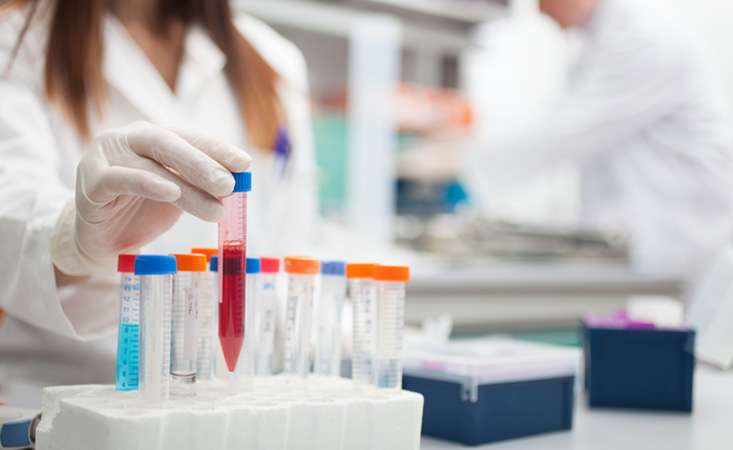 Results from two Phase 3 clinical trials for pancreatic cancer treatments were recently announced. ERYTECH Pharma's TRYbeCA-1 clinical trial and Rafael Pharmaceuticals' AVENGER 500 clinical trial did not meet their primary endpoint (goal) of improving overall survival for patients.
"While the results are disappointing, we are very grateful to these companies for testing their investigational drugs in this difficult-to-treat disease," said PanCAN Chief Medical Officer Anne-Marie Duliege, MD. "Most importantly, we are grateful to patients and their families for enrolling in clinical trials, which are the only way to bring new treatments to pancreatic cancer patients."
ERYTECH Pharma's clinical trial evaluated a drug candidate called eryaspase that causes the breakdown of certain amino acids, the building blocks for proteins within cancer cells. The drug was encapsulated inside red blood cells, a method developed by ERYTECH Pharma in order to increase the length of time therapeutics remain active in the body while also reducing risk of side effects. The trial evaluated eryaspase as a second-line treatment for patients with metastatic pancreatic cancer, which means it was given to patients who had already had one prior line of treatment.
Interestingly, the subgroup of patients who received eryaspase in combination with a specific chemotherapy regimen (irinotecan-based chemotherapy) did see a "nominal survival benefit," with median overall survival at eight months versus 5.7 months for those who received the chemotherapy alone.
The second clinical trial reporting results -- the AVENGER 500 clinical trial from Rafael Pharmaceuticals --  evaluated the efficacy and safety of CPI-613® (devimistat) in combination with modified FOLFIRINOX (mFFX) as a first-line therapy in patients with metastatic adenocarcinoma. Devimistat is an experimental drug targeting the ways cancer cells break down nutrients for energy, designed to ultimately starve cancer cells to death. The goal is to increase the sensitivity of cancer cells to chemotherapy agents, improving efficacy and reducing side effects. The trial results showed that devimistat combined with the chemotherapy combination mFFX did not improve overall survival as compared to FOLFIRINOX alone.
Both companies say they plan to continue to explore how the experimental drugs may perform in combination with other therapeutics for pancreatic and additional types of cancer and at different stages of disease.
"Although the clinical trials weren't successful in the majority of patients tested, there were some patients for whom the investigational treatments provided benefit," Duliege said. "It's important to continue to understand characteristics of patients that may benefit from these drugs and to determine whether there are other disease settings or combinations that may elicit a better response."
Patient safety is a priority for all clinical trials. The multistage process ensures that experimental treatments are evaluated for appropriate dosages and overall safety as well as for how they compare to the standard of care.
PanCAN Patient Services can provide information about pancreatic cancer clinical trials, including a personalized list of clinical trials based on the patient's geography, diagnosis and treatment history. PanCAN's Clinical Trial Finder online search tool is also available to patients, caregivers and healthcare professionals to explore options. And, PanCAN has launched Precision PromiseSM, an adaptive clinical trial platform designed to make the drug development process faster, less expensive and involve fewer patients.