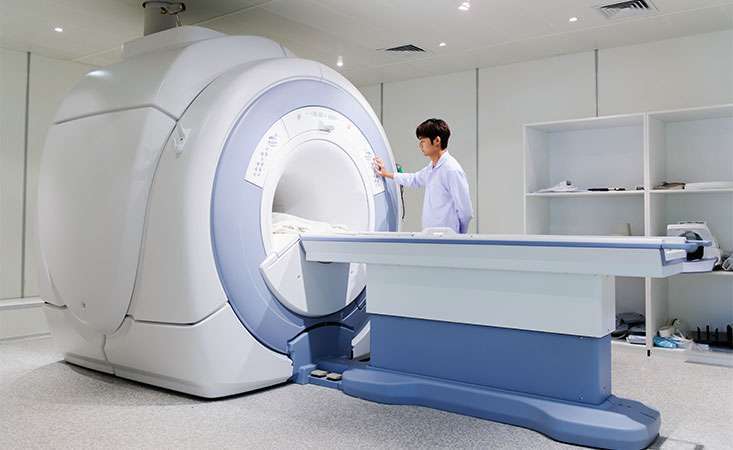 How does someone trained in spin physics – the study of the "magnetic moment" of elementary particles – apply that knowledge to researching the early detection of pancreatic cancer?
"I approached this field from a rather unconventional imaging and spin-physics perspective," said Pratip Bhattacharya, PhD, associate professor in the department of cancer systems imaging, division of diagnostic imaging, at the University of Texas MD Anderson Cancer Center.
Bhattacharya is the lead author of a study recently published in the Journal of Proteome Research, funded in part by his 2016 Pancreatic Cancer Action Network (PanCAN) Translational Research Grant.
Florencia McAllister, MD, co-principal investigator of Bhattacharya's grant, is a coauthor of the article and a two-time PanCAN research grant recipient. Another coauthor, Anirban Maitra, MBBS, has also received PanCAN research funding and is a member of the organization's Scientific and Medical Advisory Board.
"The collaborative environment at MD Anderson, with physician-scientists like Drs. Florencia McAllister and Anirban Maitra, motivated us to develop a new imaging approach for early detection of pancreatic cancer," Bhattacharya said. "Through innovative research in a preclinical setting, we've been able to develop a strategy that can be translated into the clinic in the near future."
Bhattacharya's approach involves a technology known as hyperpolarized metabolic magnetic resonance imaging (MRI). Described as providing an image "more than 10,000 times" more detailed than conventional MRI, Bhattacharya explains the approach as a way to "noninvasively, in real time, and without any ionizing radiation, assess the aggressiveness of pancreatic cancer."
Drawn to pancreatic cancer as a disease with low survival rates, vague symptoms and a lack of a reliable screening test, Bhattacharya looked to pancreatic cancer cells' ability to metabolize, or break down, sugar and other nutrients differently from healthy cells.
"Being able to visualize the cancer cells taking in and breaking down labeled nutrients in real time allowed a clearer picture of which cells are healthy and which are cancerous," Bhattacharya said.
Ultimately, the research team is hoping to use this technology to visualize the earliest stages of a pancreatic tumor – even before it's invasive cancer. "If successful," he said, "metabolism-based hyperpolarized MRI may offer an exciting and unique opportunity to identify and understand early metabolic abnormalities in tumors and enable detection of both precancerous lesions in the pancreas and early pancreatic tumors at a very small size, for which no methods of detection currently exist."
Bhattacharya continued, "Being a spin-physicist, this PanCAN Translational Research Grant has given me the opportunity to build collaboration with physician-scientists and cancer biologists to address this crucial knowledge gap. The results from this study also served as a foundation for my laboratory to apply for major additional funding from the National Institutes of Health to further develop this metabolic imaging technique as a screening tool for pancreatic cancer in high-risk individuals.
"This work would not have been possible without the dedication of this community, and I am exceedingly grateful to the Pancreatic Cancer Action Network for their generous support."
Your support
enables researchers like Dr. Bhattacharya to continue to work toward improved early detection and better treatment options for patients with pancreatic cancer.